At Miss Molly's Chincoteague Bed and Breakfast we serve a gourmet breakfast. Freshly brewed coffee is available from 7:30 a.m. every morning to enjoy in the lovely screened in porch or to take to your room. The breakfast is set with antique china and special cloth napkins, there is always freshly brewed coffee, English tea or warming Cocoa available, fresh orange juice and homemade breads, cakes and muffins with Lin's famous homemade preserves. Welcome to breakfast at Miss Molly's Inn.
The first course here at our Chincoteague Island bed and breakfast will always be fruits, for example; blueberry compote with plain yogurt, honey and vanilla. Poached pears in a fresh raspberry coulee or fresh melon boats with prosciutto.
The second course could be stuffed french toast with strawberries and cream with maple syrup and a special maple or hickory bacon, or smoked salmon and asparagus quiche with a puff pastry fruit basket or a full English breakfast with sausage and bacon tomato mushrooms and eggs, or homemade Belgian waffles with peaches and cream and a super European sausage; the list goes on and on at our Chincoteague bed and breakfast.
Beach Lunches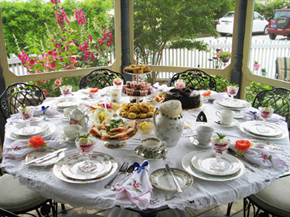 Order from our picnic lunch selections by filling out a menu form found in your guest room, to transport your picnic we also provide a cool box that you can take on your bike or carry over your shoulder.
Afternoon Tea
A real English afternoon tea is available at Miss Molly's inn, in the beautiful screened in porch surrounded by an English country garden filled with roses and hollyhocks. Indulge in strawberries and cream, homemade scones with jam and cream, finger sandwiches, homemade cakes and fancies, and of course, unlimited English teas. This is a must for everyone.