Pricing Details:
10% discount for returning Miss Molly's Guests
Thank you, thank you, thank you to our amazing guests who have become like family over the years! We love welcoming you back time and time again. To show our appreciation, repeat  Miss Molly's Inn guests will receive a 10% discount on room rates – be sure to mention that you've stayed with us in the past. It's our pleasure to offer complimentary upgrades to the next price level when possible, flexible check-in and check-out times and more to our most valued guests.
Must mention you are a returning guest at reservation. May not be combined with other discounts.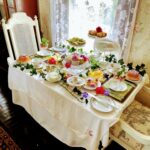 Filed under: Special Discount
Select an offer type to see other similar offers