February 6, 2021 by Corey A. Edwards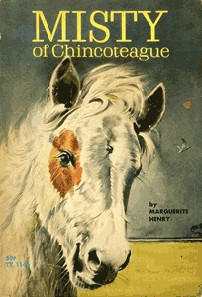 As a visitor to Chincoteague, you're likely aware of the "Misty of Chincoteague" children's book. What you might not know is that the author, Marguerite Henry, wrote parts of the book right here on the island and that she was staying at Miss Molly's Inn at the time.
I'm sure you have heard of love at first sight, or maybe you are lucky enough to have felt that way in your own life. Well, that is just how Marguerite Henry felt the first time she saw Misty. Marguerite knew from the moment she saw the new born foal, that the book she was about to write needed to be about Misty, no other pony would do.
You see, Marguerite Henry came to Chincoteague in 1946, with only a little information about the island and an event called Pony Penning. Lucky for her, and us all, she picked Miss Molly's Inn as her home away from home while gathering her ideas for her book. She would often spend afternoons on the porch of the inn with Miss Molly and Captain Jack, discussing ideas for the book and getting some much needed advice.
Miss Molly told Marguerite that if she wanted to learn about the ponies, there would be no better person to speak to than Clarence "Grandpa" Beebe. Clarence was a stockman, he raised Chincoteague Ponies, and he was involved in the Fire Dept and the roundup. It seemed like a perfect fit. Immediately, Mrs. Henry was off to find the Beebe Ranch.
Read the rest of this page »