The Inn
The Story & History of Our Chincoteague Inn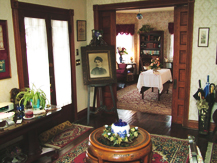 Miss Molly's Inn was built in 1894 by Mr. J.T. Rowley, the "Clam King of the World" and was famous for his "Rowley Oysters". Miss Molly was born in 1888. Her husband passed away in the early 1920's, leaving her a young widow.  Molly had to find a means of support in this tiny secluded fishing community, at a time when single young ladies had few options.
Miss Molly decided to open her house to paying guests and recruited her uncle "Captain Jack" to help.  Captain Jack was an active coast guardsman who assisted in sea rescue, was keeper of the lighthouse and was part of the New Orleans flood relief team in 1927.  Visitors came to the island to hunt and fish and lodged at the Inn.  The income allowed Molly to keep her most precious possession, her home. Many new visitors arrived in 1936 when a new bridge was built replacing the ferry from the mainland to Chincoteague.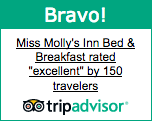 In 1946 Marguerite Henry arrived in the summer.  She would sit with Miss Molly and Captain Jack rocking on the porch and discussing thoughts and ideas for her new book, Misty of Chincoteague.
While maintaining our Victorian charm we provide the modern conveniences of air-conditioning and wi-fi.  Our inviting parlor and many porches are perfect for reading, chatting, playing board or card games or just peacefully relaxing.