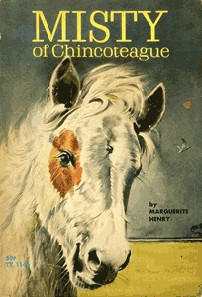 As a visitor to Chincoteague, you're likely aware of the "Misty of Chincoteague" children's book. What you might not know is that the author, Marguerite Henry, wrote parts of the book right here on the island and that she was staying at Miss Molly's Inn at the time.
I'm sure you have heard of love at first sight, or maybe you are lucky enough to have felt that way in your own life. Well, that is just how Marguerite Henry felt the first time she saw Misty. Marguerite knew from the moment she saw the new born foal, that the book she was about to write needed to be about Misty, no other pony would do.
You see, Marguerite Henry came to Chincoteague in 1946, with only a little information about the island and an event called Pony Penning. Lucky for her, and us all, she picked Miss Molly's Inn as her home away from home while gathering her ideas for her book. She would often spend afternoons on the porch of the inn with Miss Molly and Captain Jack, discussing ideas for the book and getting some much needed advice.
Miss Molly told Marguerite that if she wanted to learn about the ponies, there would be no better person to speak to than Clarence "Grandpa" Beebe. Clarence was a stockman, he raised Chincoteague Ponies, and he was involved in the Fire Dept and the roundup. It seemed like a perfect fit. Immediately, Mrs. Henry was off to find the Beebe Ranch.
A Chincoteague Love Story: Marguerite meets Misty
Mrs. Henry felt right at home at the Beebe Ranch, Clarence and Ida Beebe were perfectly charming, she also felt an immediate connection when she met Paul and Maureen, the grandchildren living at the farm. There were lots of ponies at the Ranch but Marguerite was drawn to a newborn foal lying between her mother's protective legs. She instantly fell in love with what she called a filly that looked like a rumpled bath mat. New and wet and perfect. She said "It was a moment to laugh and cry and pray over, especially if you'd wanted a pony your whole life." Yes, love at first sight.
It was as if the story was going to write itself. It had to be about this family on this farm and no other pony but this little newborn named Misty. Marguerite spent the next few weeks enjoying the comfortable accommodations at Miss Molly's in what was later renamed her "Marguerite Henry Room" and building a life long friendship with the Beebe family. The book that resulted was "Misty of Chincoteague" published in 1947, it was a huge success for Marguerite Henry, illustrator Wesley Dennis and for the whole island of Chincoteague.
Misty ending up spending some time with Marguerite at her home in Illinois, going on a book tour and even traveling around the country to host fundraisers after Chincoteague sustained damage after a storm in 1962. Mrs. Henry did remain friends with the Grandma and Grandpa Beebe until their passing and continued to be a regular visitor to Chincoteague her whole life. Sometimes the greatest loves can last a lifetime.
Misty of Chincoteague Sites to Visit