Area Activities
Chincoteague Activities near our Virginia Bed and Breakfast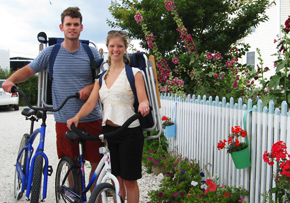 No matter what time of the year you come to Chincoteague Island there are always lots of Chincoteague activities to do! For example, if you like the water you can go kayaking, sailing, parasailing, jet skiing, surfing or hire motor boats. We highly recommend Daisy's Island Cruises – particularly their sunset pontoon Boat Cruises. We'll happily assist you in booking any scenic or fishing excursions you may be interested in during your stay.
Chincoteague and Assateague are great for biking. We are pleased to provide bikes for you and everything you need for the beach. There is hiking and sight-seeing, photography and world class bird watching. Assateague has a glorious unspoiled beach and the most wonderful wild life reserve where you'll find a wide variety of migratory and local birds, diverse wildlife, including Chincoteague's famous wild ponies and the Assateague Lighthouse.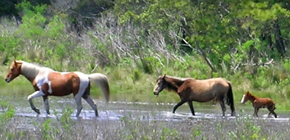 In addition to the wonderful beach and Wildlife Refuge, with walking distance to Miss Molly's we have diverse shopping, restaurants and activities in our historic downtown. Ask us for dining recommendations, we will happily arrange tables for you at all of our favorite spots!  Learn a little more about Chincoteague and Assateague Island and their history on a fascinating walking tour by Chincoteague Step Through Time Tours Throughout the year Chincoteague also plays host to festivals, plays and local musical and dramatic performances along with displays by local art galleries, many blocks from our Inn.
Come find all our Island has to offer, from unspoiled nature to engaging activities perfect for families, lovers and people that need that perfect blend of unique natural beauty, restoration and relaxing entertainment. And remember you are already participating in literary history by staying at the same Chincoteague bed and breakfast where Marguerite Henry wrote 'Misty of Chincoteague''!