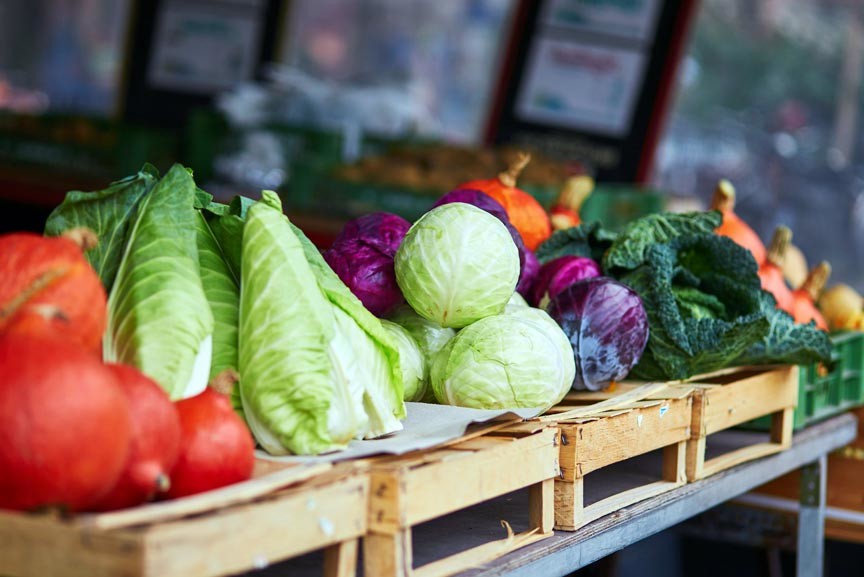 The sun is out, flowers are in bloom, and the Chincoteague Farmers Market is in full swing. Come enjoy the fresh and colorful local produce, quality arts and crafts, and live entertainment every week!
The Chincoteague Island Farmers and Artisans Market is held most Saturdays and Wednesdays, from April to October. The market is located at 6309 Church Street, just a few blocks from our Chincoteague bed and breakfast.
Farmers and Artisans Market
If you're a fan of the Farm To Table movement, Chincoteague Farmers Market is for you with a wonderful selection of locally sourced goods every week.
You'll find fresh meats and seafood, honey, eggs, local produce, cheeses, jams, jellies, and yummy baked goods. You'll also find seedlings, starts, flowers and other plants for your garden or home.
Both a Farmers and and an Artisans Market, the scene also includes a delightful array of regionally handcrafted items. Local artisans will display jewelry, apparel, carvings, soaps, hangings, and and other fine arts and crafts.
Market days also include live music, a local food truck, and a festival atmosphere. Attending provides not just an opportunity to spend money but to share in our happy island community's warm spirit.
2019 Chincoteague Farmers Market Schedule – 9am to 1pm
May 18, 25
June 1, 12, 15, 19, 22, 26, 29
July 3, 6, 10, 17, 20, 23, 27, 31
August 3, 7, 14, 17, 21, 24, 28, 31
September 7, 21, 28
October 5, 19, 26
The Artful Flea
If the timing of your visit to Chincoteague allows, you should also consider checking out the Second Saturday Artful Flea.
The Artful Flea is a Chincoteague flea market that is held in place of the Farmers Market on the 2nd Saturday of each month. Come peruse the offerings of the island: antiques, collectibles, arts & crafts, attic treasures, and more. Like the Farmers and Artisans Markets, the Artful Flea includes a local food truck and live entertainment.
2019 Chincoteague Artful Flea Market Schedule – 9am to 2pm
May 11
June 8
July 13
August 10
September 14
October 12
2019 Chincoteague Farmers Market
6309 Church Street, Chincoteague, VA
Free admission and parking. On Pony Penning Week, the Farmers Market is open Tuesday, July 23rd.
Learn more by visiting: www.chincoteagueculturalalliance.org. You can also follow the market on Facebook.
Chincoteague Lodging
Miss Molly's Inn would love to be your home away from home for all your Chincoteague adventures. Soak up the comfort of our historic B&B's guestrooms with WiFi, air conditioning, and daily delectable treats. You can also take advantage of our bikes and beach gear during your stay. Come enjoy a Virginia coast getaway on beautiful Chincoteague Island. Book your stay at Miss Molly's Inn today!