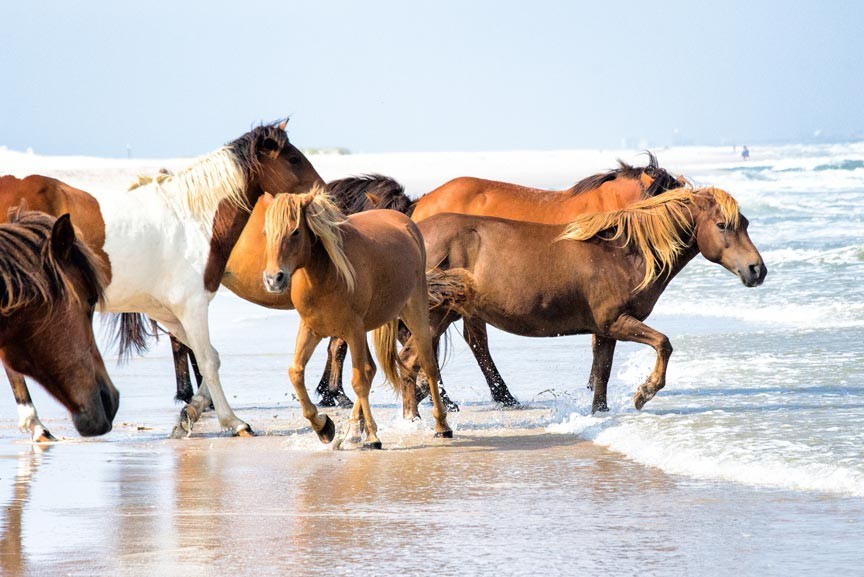 Chincoteague Pony Swim 2019 is almost upon us and now is the time to plan your visit to the island for this rare and amazing annual spectacle: July 24, 2019.
Our historic Chincoteague bed and breakfast, Miss Molly's Inn, is less than a mile from the Chincoteague Fairgrounds, where so much of next month's activity takes place.
Both are here for any and all of your Chincoteague adventures – some of the most exciting of which occur during the month of July! Of course, that means you should book your Chincoteague accommodations sooner rather than later, before they all get snapped up!
94th Annual Wild Pony Swim
The wild ponies of Chincoteague spend most of their lives roaming on neighboring Assateague Island. Though essentially free, they are looked after by the Chincoteague Volunteer Firemen, aka: the c.
Maintaining a healthy, sustainable herd includes limiting the number of horses on the island. Rather than cull these beautiful horses, the annual pony swim provides both a health check and an auction of foals.
The ponies will swim the short distance across the channel at slack tide, sometime between 8am and 10am on Wednesday, July 24, 2019. The ponies will then rest for about an hour before being led to the carnival grounds.
Foals are auctioned on the carnival grounds at 8am, July 25th, 2019. Winners will receive certificates of purchase from the Chincoteague Volunteer Fire Company.
The annual pony swim and auction coincides each year with the Chincoteague Fireman's Carnival, making for lots of fun. Proceeds from both the pony auctions and the carnival go towards caring for the remaining horses for the rest of the year.
Win a Chincoteague Pony!
That's right: you can win your own wild Chincoteague pony. Of course, you'll want to make sure you have room in your car or bicycle basket to take it home first, not to mention a spare bedroom for when you get it there … but yes, you can win one!
The first foal to come ashore during the swim each year is given away in a drawing at the carnival grounds bandstand at 7pm. Tickets are sold at the carnival each night as well as just prior to the swim. You must be present during the drawing with your ticket to claim your pony.
2019 Chincoteague Pony Swim Schedule
Chincoteague Volunteer Fireman's Carnival Dates –
June 28–29, July 3–6, 12-13, 19-20, 22–27 – 7pm to 11pm every night
Old-Fashioned Fireworks Display
July 4 – 10pm
South Herd Roundup
July 20 – about 5pm
North Herd Roundup (No Public Admittance)
July 21 – around 6am
Wild Pony Beach Walk
July 22 – around 6am
Vet Check and Selection of Buyback Ponies
July 23 – about 9am
Pony Swim
July 24 – 8am to 10am
Auction of Foals
July 25 – 8am
Ponies leave the Carnival Grounds
July 26 – 9:30am
Pony Swim Back
July 26 – 10:30am to 11am
Last Night of the Carnival
July 27 – 7pm to 11pm