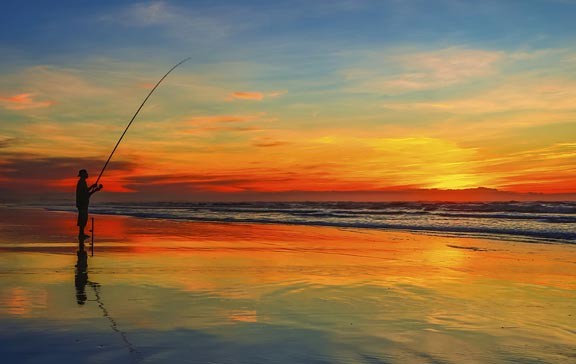 Surf fishing Assateague Island is a great, outdoor pastime – and can be a fruitful one as well, especially this time of year!
What is surf fishing?
If you're picturing an angler on a surfboard, back up a bit there, fellah. Surf fishing is conducted from the shoreline or while wading in the surf. Similar terms like "surf casting" and "beach casting" are more specific and refer casting into the surf from or near the beach. Surf fishing, as the name implies, is primarily a saltwater endeavor. Surf fishing is a general term and does not specify they type of equipment used or what type of shoreline you are fishing from – you can even surf fish from a pier.
Of course, surf fishing Assateague Island means fishing from the beach and, being the only undeveloped barrier island easily accessible by car in the area, Assateague is a prime spot for this sport. Not only that but Assateague has all the classic barrier beach island characteristics you could want for surf fishing, drop-offs, sloughs, and sandbars. Locating a nice, deep drop-off for your bait to tumble in and out of the surf and attract the fish.
Late spring and early summer offer the best surf fishing opportunities. Channel bass, black drum, rockfish, bluefish, gray trout, sharks, flounder: fish of all shapes and sizes can be had as they feed along the Assateague shoreline, following food and warm water into our secluded coastal inlets.
Surf fishing Assateague Island is further facilitated by good public parking areas off of several prime fishing locations as well as a four-wheel drive access area that provides access to another six miles of beach on the Virginia side.
Surf fishing is permitted on the island without a permit during the summer months from 5am to 10pm. Night fishing is allowed but requires a free permit, which you can get at the ranger station.
Of course, you're going to want somewhere to call home during your forays onto Assateague's pristine beaches and where better than a local bed and breakfast inn? Miss Molly's Inn would be proud to serve as your base for any excursions you plan – whether it's surf fishing Assateague Island or just taking in the sites of Chincoteague Island. With beach supplies and an insider knowledge of the area, we'll help set you up for the vacation of a lifetime.