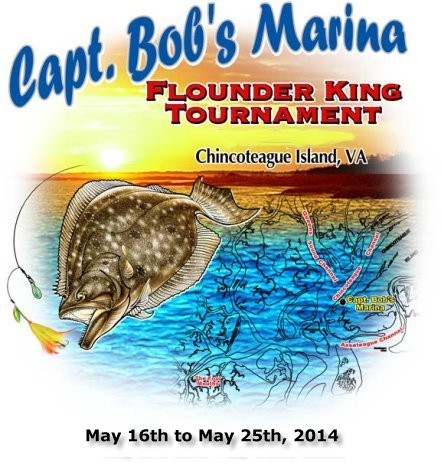 It's spring – and no Chincoteague Island spring is complete without a Captain Bob's Marina Flounder King Tournament!
Captain Bob's Marina Flounder King Tournament is a local tradition that pays out cash prizes for the top winners, so if you like yourself some fishing and fancy yourself good at it, head on over to Chincoteague Island between May 16th – May 25th and register to enter. You don't even need a boat! (but that would probably help)
Here's a list of the rules and regulations for this year's Captain Bob's Marina Flounder King Tournament:
Registration fee is $35
You can fish on the shore or off a boat.
You have 10 days to try and catch the biggest flounder, using a hook and line and in accordance with all applicable state and federal regulations regarding size and creel limits.
Tournament legal fish may only come from within Chincoteague and Assateague waters. Outside the inlet gets you out of the tournament.
Daily weigh-ins take place between 1pm and 6pm at Captain Bob's Marina, with the final weigh-in on Sunday, May 25th at 1pm.
Winner is the fisher with the greatest total daily weight of three fish or less.
Calcutta winner: heaviest flounder of the tournament.
Heaviest Croaker and Heaviest Gray Trout prizes are also available.
Five cash prizes will be given and will be based upon entree fees collected less tournament expenses:
First Place: 40% of take
Second Place: 25% of take
Third Place: 15% of take
Fourth Place: Ugly Stik/Penn Combo
Fifth Place: $50 gift certificate
Register online at Captain Bob's Marina website or via mail, using the "2014 Printable Form & Rules" provided on the Flounder King Tournament page.
Lodging for Your Trip to Chincoteague
Don't flounder around for Chincoteague lodging – whether you are here for the Marina Flounder King Tournament or just to getaway to the beautiful and inviting Virginia coast, Miss Molly's Inn Bed and Breakfast is the place to stay! Enjoy a great night's rest in one of our guestrooms – it's island lodging at competitive prices.