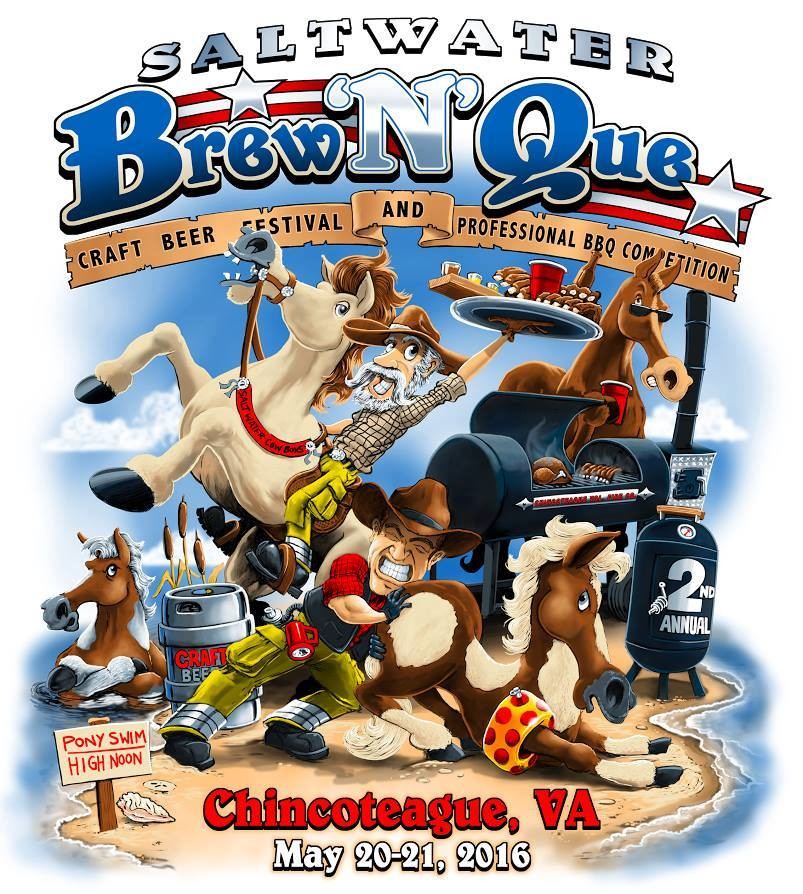 If you missed last year's Saltwater Brew 'N' Que on Chincoteague Island, fear not – it's back with Saltwater Brew 'N' Que II – May 20th and 21st, 2016!
The annual Saltwater Brew 'N' Que is a mouth-watering, professional barbecue competition and craft beer festival rolled into one and all taking place on Virginia's lovely Chincoteague Island!
Unlimited beer tastings, served in a commemorative, Saltwater Brew 'N' Que glass that you can take home, will help you to wash down all the sweet, hot, and sticky barbecue you can handle: pulled pork, ribs, brisket, chickens, sausages, and of course, all the fixins'! Oh, my!
This year's event will include both a People's Choice chicken wing contest (Friday) and a more general BBQ competition (Saturday), accredited by the Kansas City Barbeque Society Competition. The people's choice wing tasting event allows festival attendees to purchase blocks of five tickets and a ballot to vote for your favorite wing entry (one wing sample per ticket). Tickets will be available for sale on-site Friday at the Chincoteague Fairgrounds entrance, while supply last.
While vendors, entertainment, and teams are still signing up, enough have been confirmed to paint a good, solid picture of what this year's Saltwater Brew 'N' Que will look like:
Saltwater Brew 'N' Que Event Schedule
Friday, May 20th – 4pm to 9pm
Mountaire People's Choice Wing Tasting Event – 6pm to 8pm
Saturday, May 21st – 11am to 7pm
BBQ Competition – Turn-in at Noon, Judging immediately after, awards at 5 p.m.
Craft Beer Tastings 11am 'til all the kegs are emptied
After Party at the Jackspot 7pm to 10pm
Available all day, both days: food and drink vendors and local goods vendors.
Craft Brewers will be at the festival and providing tastings on Saturday at 11am and will continue pouring until the kegs go empty – so be sre to get there while the suds last!
Saltwater Brew 'N' Que Breweries
Dogfish Head Brewing
Evolution Craft Brewing
Starr Hill Brewery
Smartmouth Brewing Co.
3rd Wave Brewing
Bold Mariner Brewing Co
Full Tilt Brewing
Assawoman Bay Brewing Co.
Fordham & Dominion Brewing Co.
Ocean City Brewing Co.
O'Connor Brewing Co.
Fin City Brewing Co.
Heavy Seas Brewing Co.
Tall Tales Brewing Co.
Along with the beer and bbq (isn't that enough?) Saltwater Brew 'N' Que II will also feature live country music on stage throughout the festival!
Saltwater Brew 'N' Que Entertainment Schedule
Friday
Left Hand Lock – 4:30pm to 6:30pm
Clean Getaway – 7pm to 9pm
Saturday
Micheal Christopher – 11:30am to 1:30pm
Kasey Rae Band – 2pm to 4pm
To Be Announced – 4:30pm to 6:30pm
Saltwater Brew 'N' Que II
Chincoteague Fairgrounds, Main Street, Chincoteague, VA 23336
May 20th – 4pm to 9pm – May 21st – 11am to 7pm – 2016
For more information and updated details: www.saltwaterbrewnque.com
Saltwater Brew 'N' Que Lodging
Miss Molly's Inn Bed and Breakfast would love to be your home away from home during your Chincoteague Island getaway. Miss Molly's is proud to provide wireless internet and air conditioning, delectable daily treats, and beach gear like bikes, backpacks, beach chairs, and boogie boards for your use during your stay. Come enjoy a Virginia coast getaway on beautiful Chincoteague Island!