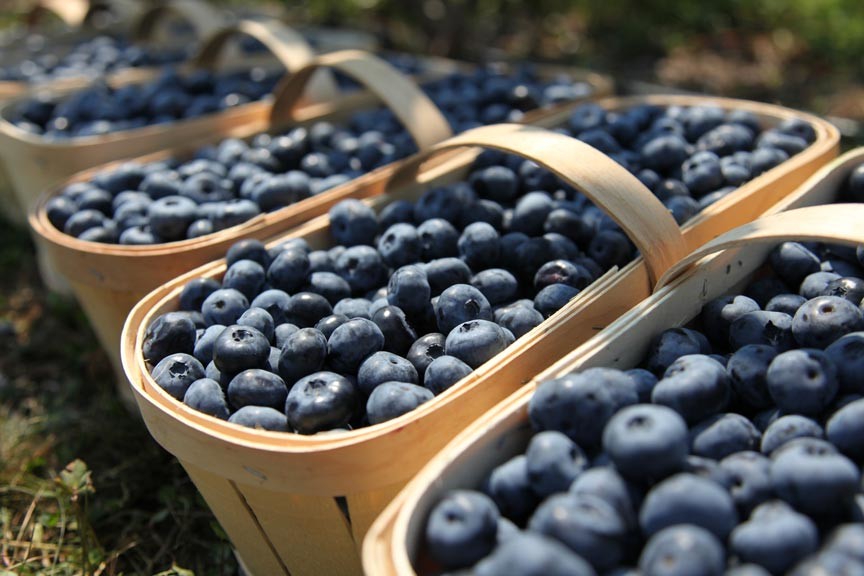 The 29th Annual Chincoteague Island Blueberry Festival is just weeks away, scheduled for July 22nd through the 24th, 2016.
Blueberries are almost universally loved – and why not? That rarest of foods, these cute, little deep blue orbs are not only delicious, delightful, sweet, and juicy, they also happen to be good for you! How often does that happen? No wonder they're so celebrated!
The annual, 3-day Chincoteague Island Blueberry Festival is replete with blueberries and blueberry inspired recipes: blueberry pancakes and jumbo blueberry muffins, blueberry pecan chicken salad sandwiches, greek salad with fresh blueberries, and – of course! – delicious fresh and simple blueberries, all on their own. Mmmmm!
Did I forget to mention Sugarbakers' delectable blueberry pies? It simply wouldn't be the Chincoteague Island Blueberry Festival without them. If you've never had one of Sugarbakers' Ultimate Blueberry Pies, do yourself a flavor and make an effort to do so – you wont be disappointed!
Both the fresh berries and Sugarbakers' pies sell out FAST – so fast, it is recommended you pre-order them to assure that you actually get some! You can pre-order your fresh blueberries from Dick Jones at 540-273-2963 – but you have to call before July 20th. The same is true of Sugarbakers' wildly popular Ultimate Blueberry Pies, available whole or by the slice. Call Sugarbakers at 757-336-3712 to make sure you get yours.
Beyond blueberries, there will also be plenty more to eat from a variety of vendors: breakfast burritos, grilled burgers and brats,, cheese and tomato quesadillas, grilled crab and avocado tacos, crab melt pitas, and more – plus beverages!
Despite the name, the Chincoteague Island Blueberry Festival isn't only about stuffing your face. The festival also encompasses the largest fine arts and crafts event on Virginia's Eastern Shore. Enjoy some delicious eats, then browse to your heart's content, finding unique gifts for yourself and your friends!
Chincoteague Island Blueberry Festival also includes live music and, though the schedule has yet to be announced, previous years have included some great regional talent, including such acts as Rick James, Black Elvis, Cole & Young, and Deedra Ervin.
This year's Chincoteague Island Blueberry Festival coincides with a number of other great Chincoteague Island events, meaning you can soak a whole lot of what makes island life so amazing all in one week! Take a look:
Chincoteague Island Pony Swim 2016
July 23-29 (various events and venues)
Chincoteague Island Farmers Market
July 23 & 26, 9am – 1pm
CCA Headquarters, 6309 Church Street
Chincoteague Fireman's Carnival
July 23-29, 7pm – 11pm at the Carnival Grounds
'Misty of Chincoteague' Film Screening
All week, at the Island Theater
Free Screening of 'National Velvet
July 28 at dusk in Robert Reed Downtown Waterfront Park
Chincoteague Island Blueberry Festival Lodging
Because of all this activity in such a short space of time, anyone hoping to stay on Chincoteague needs to plan their stay NOW – that's here we come in! Miss Molly's Inn Bed and Breakfast is here for you whenever you come to Chincoteague Island. Our historic inn offers old-world charm combined with the best of modern comforts to provide you with the kind of accommodations most travelers only dream about. Reserve your room, now!
2016 Chincoteague Island Blueberry Festival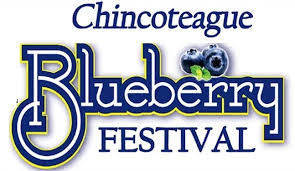 July 22-24, 9am to 4:30pm
Chincoteague Center, 6155 Community Dr, Chincoteague Island, VA 23336
www.chincoteagueblueberryfestival.com