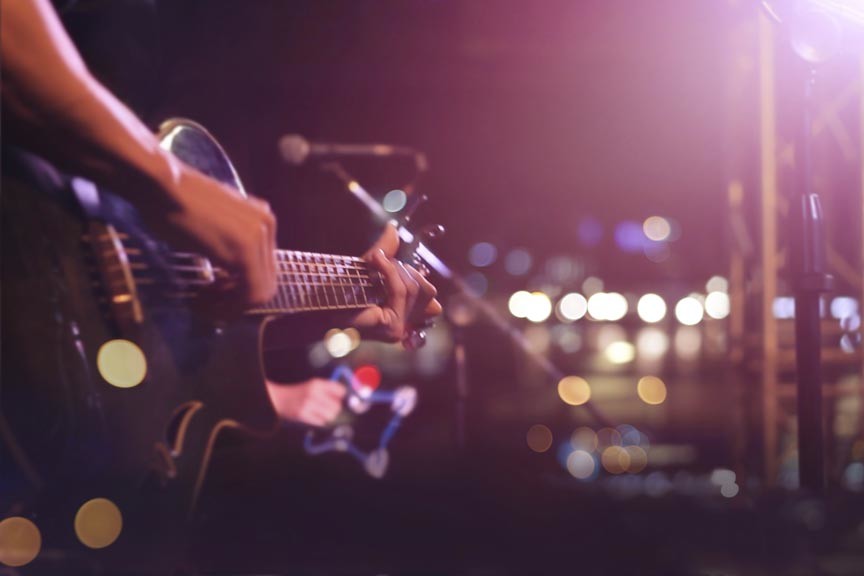 Chincoteague Island makes for a wonderful summertime playground with lots of sun and fun for all. Once the sun goes down, the fun doesn't go with it – Robert Reed Park provides plenty to do with a series of movies and music at the dock all summer long!
There's so much to do on Chincoteague Island – cruises, biking, shopping, beach-combing, the wild ponies, visiting Assateague lighthouse, and more. Once the sun goes down, it's time for a good dinner, refreshments, and … there are still many choices!
An evening stroll along the beach can be lovely, or you can spend a quiet night in. For those looking for a touch more fun, however, there's always Music at the Dock or Summer Cinema in the Park, both held at Robert Reed Park during the summer.
Music at the Dock is a series of free, public concerts held along the Waterfront each summer in downtown Chincoteague. Each concert presents a different style of music, meaning there's a little something for everyone as the series progresses. Bring a chair or blanket and relax on the park's lawn as you listen. What fun!
Music at the Dock 2016 has already presented a few shows but the remaining schedule is as follows:
Alex & Shiloh
Saturday, August 6th, 7pm
Alex & Shiloh are a brother and sister duo that applies their combined musicianship and vocals to a bottomless repertoire of classic rock and original compositions. A regional favorite that'll get you up on your feet.
C.A.I.S.O. Steeldrum Band
Saturday, August 27th, 7pm
C.A.I.S.O. – the Caribbean American International Steel Orchestra – is the hottest steel drum band in the DC area. They perform festive music that draws from Calypso, Soca, Reggae, and Latin Jazz. A huge hit at last summer's Music at the Dock concert – not to be missed!
Another draw to the park is Summer Cinema in the Park. Five, free summer films shown at dusk in Robert Reed Waterfront Park. Bring a blanket or lawn chair for a fun evening under the stars. Enjoy popcorn and cold drinks at old-fashioned prices.
The 2016 Summer Cinema in the Park remaining screenings are:
July 14th – The Iron Giant
Starring Jennifer Aniston and Harry Connick, Jr.
Rated PG. Animated. 1999
July 28th – National Velvet
Starring Elizabeth Taylor and Mickey Rooney
Rated G. 1944
August 11th – Galaxy Quest
Starring Tim Allen, Sigourney Weaver, and Alan Rickman
Rated PG. 1999
August 25th – A Face in the Crowd
Starring Andy Griffith and Patricia Neal
Not Rated. 1957
Chincoteague Island Movies & Music at the Dock
Robert Reed Waterfront Park
Main St, Chincoteague Island, VA 23336
For more information be sure to visit www.chincoteague.com/events.html
In the case of rain, Summer Cinema in the Park films are shown at CCA Headquarters, 6309 Church St., Chincoteague Island, VA 23336
Chincoteague Island Lodging
Summer is the most popular time to visit Chincoteague Island. Thousands come to visit from all over the world. Consequently, it is good idea to book your lodging sooner rather than later. And what better place to stay than at a historic inn on Chincoteague Island, itself? Stay at Miss Molly's Inn Bed & Breakfast for our luxury rooms, daily gourmet breakfasts, snacks, beach gear, concierge services, and more!