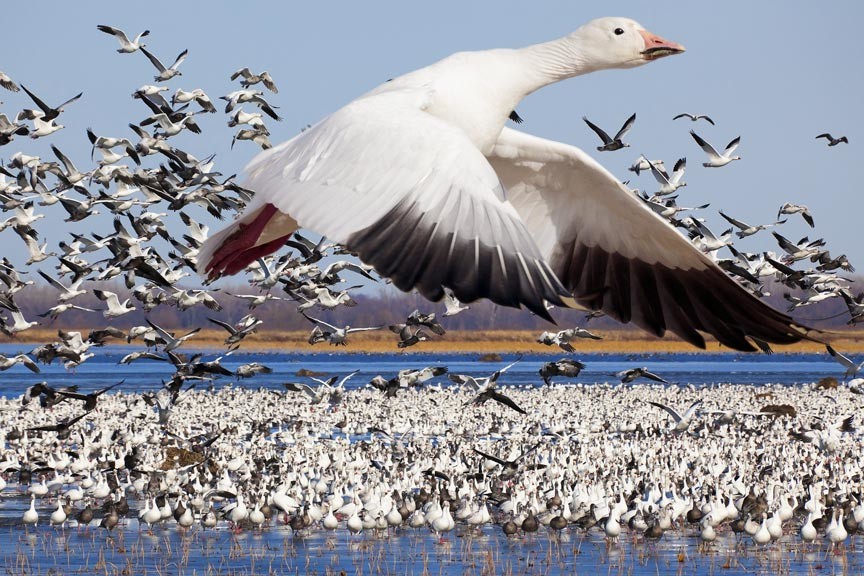 Thanksgiving is almost here if you can believe it, and with it comes the annual Assateague Island Waterfowl Weekend. November 25 – November 26, 2016.
Assateague Island is part of the Atlantic Flyway; the path that migratory waterfowl and other birds use to stay ahead of the changing seasons. The Atlantic Flyway extends from the offshore waters of the Atlantic Coast, through the prairie provinces of Canada, to Alaska's Arctic Coast.
During this time of year, Assateague Island sees thousands of snow geese. They come from their northern breeding grounds to the milder climate of Chincoteague National Wildlife Refuge for the winter. Along with the snow geese come a variety of other birds as well: ducks, swans, herons, egrets, cormorants, and more.
Flocks of human visitors arrive, too, to celebrate the arrival of the birds during Assateague Island Waterfowl Weekend!
During Waterfowl Weekend, Chincoteague National Wildlife Refuge holds an open house with special events, tours, and programs. This is also the only time of the year that the public is allowed on the refuge service road! You'll be able to access what is normally restricted land for views you will see nowhere else! Breathtaking.
The 30th annual Deborah Waterfowl Show/Auction, scheduled for November 25th and 26th, coincides with Waterfowl Weekend. Over 100 exhibitors will be on hand, displaying their waterfowl-themed carvings,m paintings, and more. Browse the artwork, talk with the artists, and pick up a one-of-a-kind gift in time for the holidays! Refreshments will also be on hand.
Assateague Island Waterfowl Weekend
November 24th through the 27th, 2016
Chincoteague National Wildlife Refuge – 8231 Beach Road
www.fws.gov/refuge/chincoteague
30th Annual Deborah Waterfowl Show/Auction
November 25th through the 26th, 2016
Chincoteague Combined School – 4586 Main Street
Assateague Island Waterfowl Weekend Lodging
Assateague Island Waterfowl Weekend is very popular, with accommodations across the island going fast! Consequently, you'll want to book your stay at Miss Molly's Inn Bed and Breakfast now!