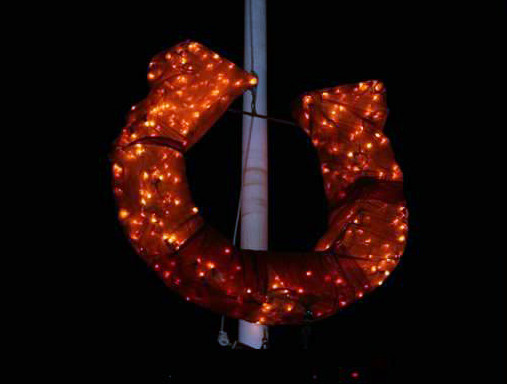 Ring in the new year on Chincoteague Island during the New Year's Eve Horseshoe Drop 2017! 10pm, December 31st in Robert Reed Waterfront Park.
Chincoteague Island is known as a beautiful vacation spot on Virginia's eastern shore. People come for our famous wild ponies, delicious, fresh seafood, pristine beaches, and vibrant wildlife. Many choose to enjoy us during the summer, while others prefer the relative quiet of our "off-season" during the holidays.
I put the "off-season" in quotes because Chincoteague Island doesn't actually have one. In fact, many think of the "off-season" as one of the best times of year to visit! Our average temperature in December is 50 degrees with sunny skies. Shops and restaurants are open, the beaches are still strollable and still lots of wonderful, winter wildlife to watch.
Best of all, island life makes those of us who live here year-round a little wacky. Consequently, annual events like our New Year's Eve celebration are not to be missed. Pony Island Horseshoe Drop 2017 is no exception.
Each year's New Year's Eve celebration on Chincoteague includes a party with live music, followed by a promenade of crazy costumes, and then the horseshoe drop. That's right, on Chincoteague Island we dropped the ball a long time ago … in favor of a horseshoe. Blame Misty.
The fun begins at 7pm, New Year's Eve at the American Legion on Main street with a buffet and live music. This year's entertainment will be by the Virginia Creek Band, who provide a popular mix of country, classic rock, and everything in between. The party continues on until 1 am but those in the know will head out for Robert Reed park and the Costume Promenade around 10:30 pm.
The annual Chincoteague Island Costume Promenade is always a good time. Locals and visitors alike get in on the fun, dressing themselves up in whatever craziness that fits in with the year's theme … or not! Costumes will be judged and prizes given in different categories. This year's theme is "Teagures & Trolls On The Tump!" – we'll let you puzzle that out.
Of course, the main attraction is Pony Island Horseshoe Drop 2017. Ten seconds before midnight, the countdown begins as the glittering, glowing horseshoe drops down the pole to signify the end of 2017 and the beginning of 2018!
Whatever you do, don't party too hard or you'll be in no shape to attend the annual Chincoteague Island Polar Pony Plunge. This year's plunge is scheduled for 1:1pm (of course) and will, as always, occur on Assateague Island.
Costume Promenade & Horseshoe Drop 2017
10:30 pm – Robert Reed Waterfront Park
Main St, Chincoteague Island, VA 23336
Chincoteague New Year's Lodging
If you're planning to attend Pony Island Horseshoe Drop 2017, let us help make your stay the best it can be with accommodations at Miss Molly's Inn Bed and Breakfast. Our supremely comfortable rooms, daily gourmet breakfasts, beach gear, and more will help to make the perfect start to your new year – or any time! Come enjoy a Virginia coast getaway on beautiful Chincoteague Island and book your stay at Miss Molly's Inn!