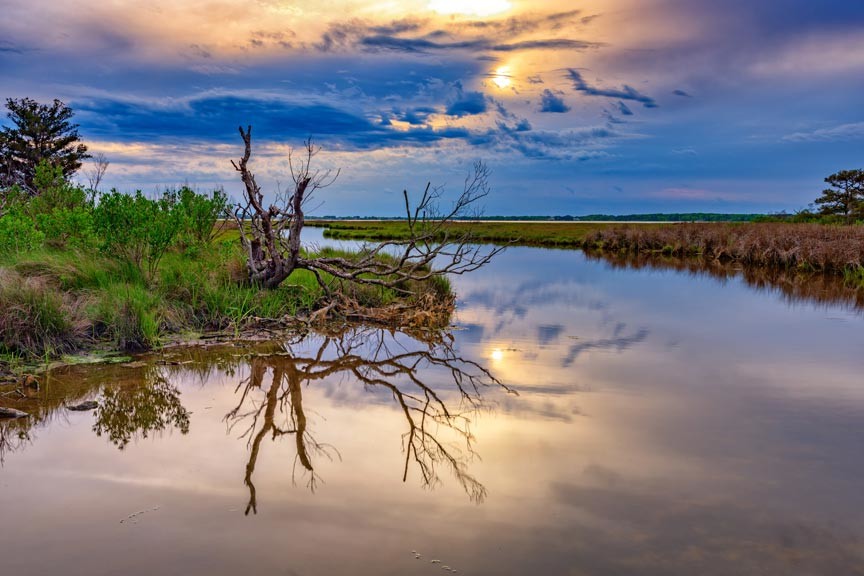 Come experience the natural beauty of Assateague Island National Seashore for free! 2018's remaining fee-free park days are April 21st, September 22nd, and November 11th.
118 of our nation's 417 national parks charge an entrance fee year 'round – except on fee-free days! Each year, the National Park Service designates a number of "fee-free" days that let you enter and explore our national treasures without charge. Amenity and user fees for activities may still be charged, of course, but entering and enjoying the parks are free!
The number of fee-free days vary from year to year. 2017 saw ten fee-free days while 2018 only has four. The first was January 15th, Dr. Martin Luther King, Jr. Day. The others occur on First Day of National Park Week (Apr 21), National Public Lands Day (Sep 22), and Veterans Day (Nov 11).
Assateague Island National Seashore is worth a visit whether there is a park entrance fee or not!
Though most famous for its wild ponies, Assateague State Park offers a wide range of activities and sights. The park features two miles of pristine Atlantic ocean beaches. It's also known for the various nature trails that wind through the island's marshland, dunes, and pine forest.
Assateague Island National Seashore is a long barrier island off the coast of Maryland and Virginia. Though it can be entered on both the Maryland and Virginia sides, there is no connecting through-road. While the Maryland side was once considered for subdivision and development, Virginia's portion of the park has remained virtually untouched.
Visiting Assateague Island National Seashore
Access from the Virginia side is through the 14,000-acre Chincoteague National Wildlife Refuge, starting point of the annual Chincoteague pony swims. You'll also find the historic Assateague Lighthouse tower and Tom's Cove Vistor's Center here. If you've not been before, starting at the visitor's center will help to kick-start your experience.
Assateague Island offers plenty to do and see. The trails and beaches offer unprecedented opportunities for nature watching and photography. Assateague Island National Seashore is part of the Atlantic flyway and serves as both a home and stopover point for myriad species of birds.
Of course, the wild ponies are more than a little photogenic, as well!
Other activities include biking, beachcombing, canoeing, kayaking, and horseback riding. During summer, lifeguard protected beaches allow for safe and fun swimming and surfing.
Crabbing, clamming and surf fishing are also allowed in season and with certain restrictions. Be sure to learn the current size limits and regulations before you set out after that fresh seafood dinner.
Be sure to visit the official Assateague State Park for hours, directions, programs, and other information.
Best of all, Assateague Island National Seashore is just five minutes from the comforts of Chincoteague Island, including Miss Molly's Inn Bed and Breakfast! Our Chincoteague Island B&B offers 7 guestrooms, uncommonly plush amenities, and much more.
We love to help guests make the most of their Chincoteague Island getaway and have bikes you can use to explore Assateague. We can also help arrange tours for you by calling ahead. Just let us know what you want to do when you book your stay – 757-336-6686!