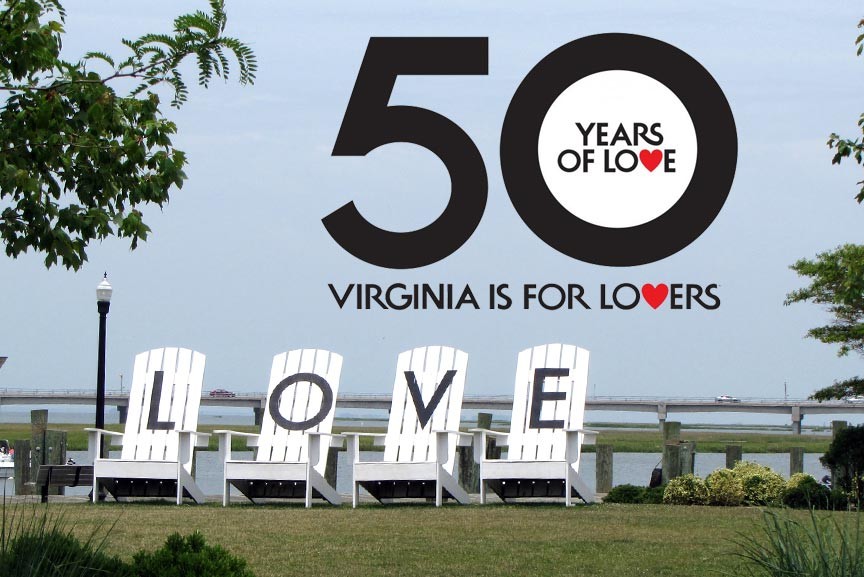 2019 is the 50th anniversary of the "Virginia Is For Lovers" and communities across the state are celebrating with special events and promotions. Enjoy fun and savings through special events and promotions celebrating 50 Years of Love on Chincoteague!
Virginia Is For Lovers but even haters can enjoy savings and fun during this summer's 50 Years of Love promotion. Chincoteague is certainly on board with a whole host of events and offerings between June 21st and August 10th, 2019. Come celebrate the love on Virginia's only resort island.
50 Years of Love on Chincoteague Events and Promotions
July 6-7 – Freedom Festival
The Freedom Festival is an art and crafts extravaganza featuring a 50 states scavenger hunt at the Chincoteague Center (6155 Community Dr). Come peruse the offerings of artisans, artists, and craftspeople. Rain or shine, $3 one-day admission, $5 two-day admission, kids under 12 FREE. 9am to 4pm both days. Learn more about this event on Facebook.
July 19 – Misty's 73rd Birthday
Celebrate the 73rd birthday of the island's most famous resident, Misty of Chincoteague! The party will feature the Chincoteague Pony Drill Team with Misty III and Billy Beebe, who will autograph your Misty of Chincoteague books. Plus games, food, and fun, 2pm to 4pm at the Chincoteague Chamber of Commerce, 6733 Maddox Blvd. Visit www.chincoteaguechamber.com for more information.
July 23 – Buckaroo Bingo
Try your luck with 20 games of Pony Bingo for only $20! Little Buckaroo Bingo Boards available for $5 with purchase of full admission. Concessions, Chincoteague themed prizes, and fun for ALL ages! 2pm to 4:30pm at the Chincoteague Center, 6155 Community Dr. More information on Facebook.
August 3 – Opus Live in Concert
Get down to an evening of live Motown music with Opus, in concert! Live Motown classics, a concession stand, and a cash bar. 7pm to 10pm at at the Chincoteague Center (6155 Community Dr). Adult tickets $15 ahead of time; $20 at the door. See more about this event on Facebook.
Even More Love
50 Years of Love also includes a variety of ongoing special offerings and activities around Chincoteague.

Dockside Properties (4105 Main St), for example, has been giving away one mystery item a day for all 50 days of the celebration!
The '50 Things To Do On Chincoteague' Scavenger Hunt will challenge your knowledge of the island. Pick up game cards from participating merchants and play to win prizes and special limited time offers. Learn more.
Keep an eye out for the "50 Years of Love" flyer around town for more fun and offers!
Chincoteague Lodging
Miss Molly's Inn is proud to be a part of Chincoteague – and a historic part! – . Come stay in the island's most famous inn and reap the best in service, comfort, and value. 7 comfortable guest rooms to choose from, delicious daily breakfasts, beach gear, concierge services, and more. Book your Chincoteague getaway at Miss Molly's Inn today!