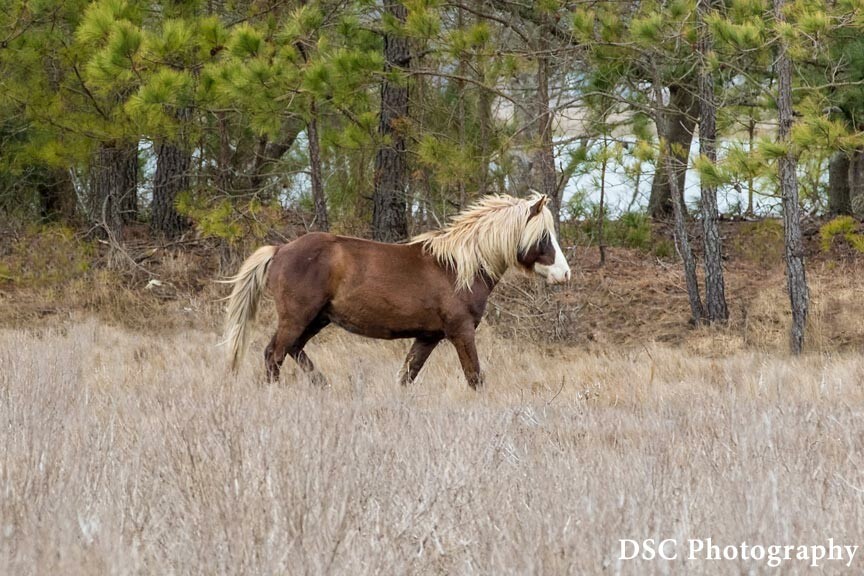 Chincoteague Pony Swim 2021 may have been cancelled and the annual pony auction moved online but you can still see the ponies during your Chincoteague getaway this summer. The island is open, the weather is great, the ponies are here, and there's plenty to do and see!
Summertime is always a special time in Chincoteague. This remains true even with Chincoteague Pony Swim 2021 and the annual Fireman's Carnival cancelled. Those coming specifically for the wild ponies will be happy to learn that there are lots of ways to see and learn about them outside of the annual swim.
Seeing the Wild Ponies of Chincoteague
One of the very best ways to see the wild Chincoteague ponies is in their natural habitat in the Chincoteague National Wildlife Refuge. A network of hiking trails and paved biking trails crisscross the refuge, with a couple offering views of the the southern herd. Both the marsh adjacent to Beach Road and the observation platform on the Woodland Trail provide good vantage points. Ponies aren't all you'll see here, either. The refuge is primarily a habitat for migratory birds and remains home to a wide range of wildlife.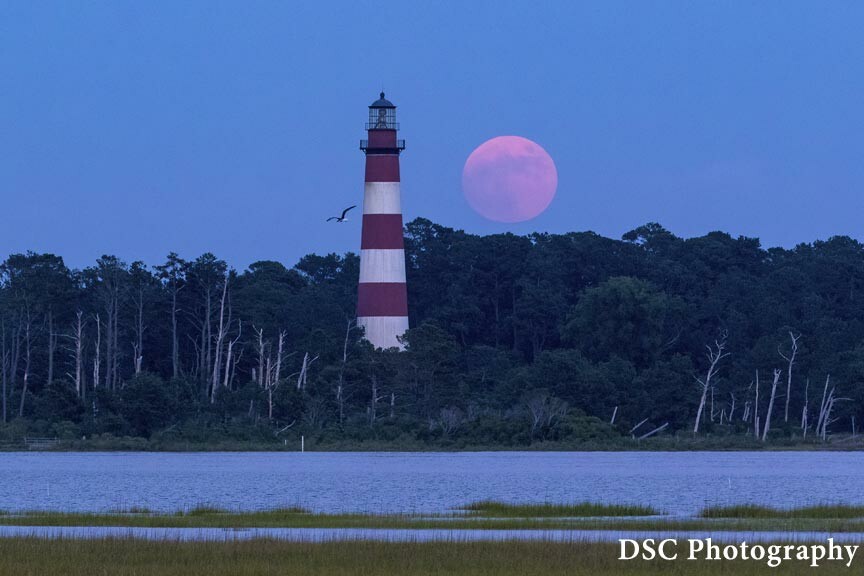 You can also see the ponies at home on Assateague with a wild pony boat cruise or guided kayak tour. Chincoteague has a host of knowledgeable boat captains and guides who will take you to the best spots for seeing the ponies up close in their native environment.
You can also see and learn about the ponies at the Chincoteague Pony Centre, located at 6417 Carriage Drive. Here you can see real Chincoteague ponies, enjoy a pony ride, peruse the gift shop, and more.
"Misty of Chincoteague" fans will find a treasure trove of related sites and information all around the island. This handy Misty of Chincoteague Trail Map will help you find all of Chincoteague's Misty related sites.
Of course, if you're staying at Miss Molly's, you're already at one! Marguerite Henry stayed at our Chincoteague bed and breakfast in the summer of 1946 while working on her famous "Misty of Chincoteague" book, and you can stay in the very same room she did!
Wild Pony Photography and Wesley Dennis Print Exhibition
Miss Molly's Inn is celebrating the 2021 Chincoteague pony season with two art exhibitions at our Chincoteague Inn.
The first is a gallery of DSC Photography's wild pony prints. Steve and Darcy Cole of DSC Photography spend over 300 days a year studying the wild ponies on the Chincoteague National Wildlife Refuge. They have hiked over 10,000 miles observing, documenting, and photographing the herds, sometimes covering as much as 20 miles in a single day. They're also the folks providing the images for this year's Online Pony Auction.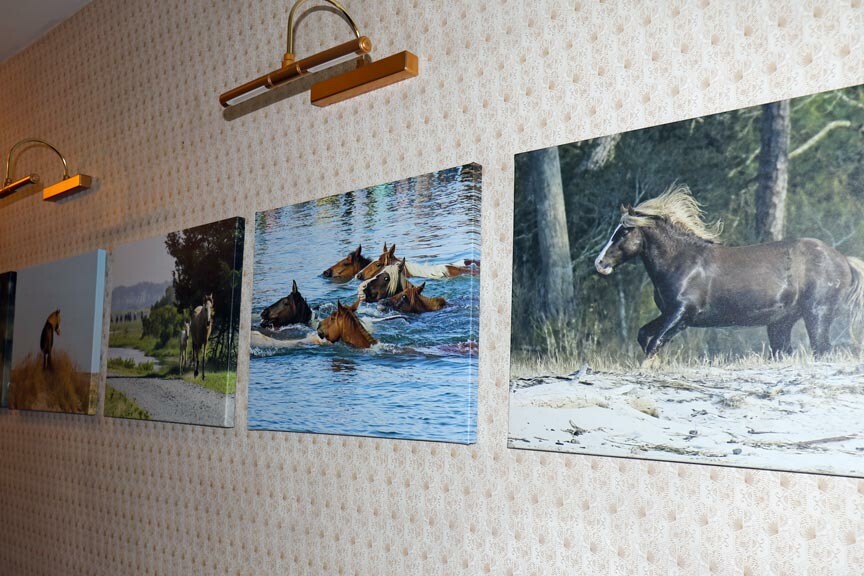 We've installed an exhibition of DSC Photography prints in our parlor and second floor. We encourage our guests to enjoy these stunningly beautiful images during their stay and, yes, they're for sale, too!
We also have an upcoming exhibit (July/August) of Wesley Dennis "Misty of Chincoteague" prints. Wesley Dennis (1903 – 1966) was an American illustrator best known for the 15 children's books about horses he collaborated on with "Misty of Chincoteague" author, Marguerite Henry. Dennis illustrated over 150 books during his career. You'll marvel at the beauty and detail of his prints seen up close.
Miss Molly's will be hosting an Art Opening and Community Reception in late August/early September to celebrate the Marguerite Henry/Misty legacy at Miss Molly's and welcome DSC's wonderful photos to their new gallery home.
Chincoteague Pony Swim 2021 and Online Auction
2021's Chincoteague Pony Swim and Fireman's Carnival have once again been cancelled due to the lingering coronavirus pandemic. This is only the second time that this has happened since WWII.
Despite these on-site cancellations, the annual Chincoteague Pony Auction is still on. The event will once again be entirely online; July 22nd through the 29th at SportHorseAuctions.com.
Prospective buyers should go to the auction website and create an account. You can also join the 2021 Foals of the Wild Chincoteague Pony Herds group on Facebook.