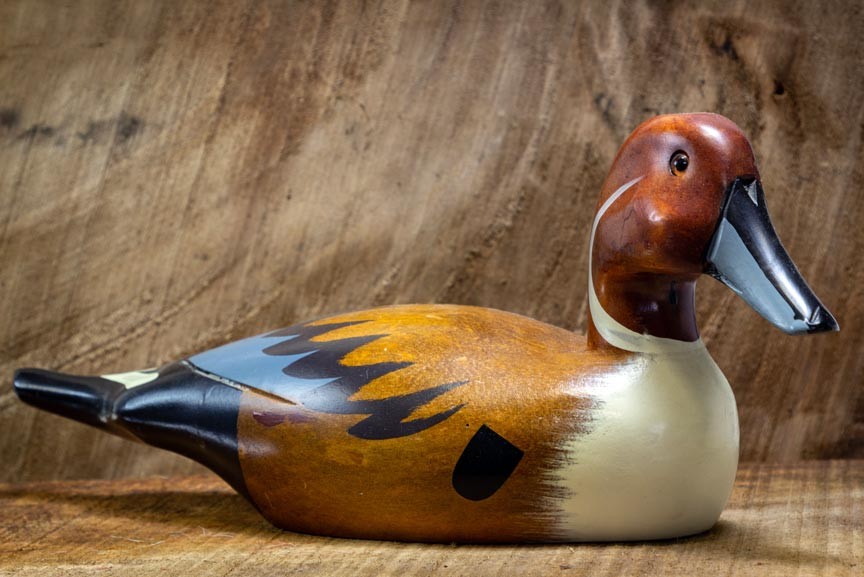 The annual Chincoteague Decoy Show features hand carved wooden decoys and other fine wildlife art from local and regional artists, along with a selection of antiques. This year's special guest is Joe Engers, from Decoy Magazine. Labor Day Weekend, August 31st to September 1st, 2019 at the Chincoteague Center.
The Chincoteague Decoy Carvers and Artists Show has been an annual event for so long its now an island tradition. In fact, decoy carving is such a part of the island that there's an Easter Decoy Show show in April, too.
The summer show features over 25 local and regional artisans exhibiting waterfowl carvings and other wildlife art. Chincoteague decoy shows draw artists from all over. They bring their finest works for the show and often pieces in progress, as well. What a great way to not only see such fine craftsmanship up close but to also meet the artists and see them work!
Fine Art, Antiques, Art Supplies, & More!
As I say at the top, it's not just woodcarvers and decoys, either. Painters and photographers are also a part of the show. Come peruse their works and chat with them about their processes. You may glean a tip or two for your own work.
Though some pieces will not be available for purchase, most of the works at the show will be for sale. This makes the Chincoteague Decoy Show an excellent early-holiday shopping opportunity. Plus, you can feel good about your purchase as proceeds collected from the sales go towards local charities.
Attendees will also be treated to a selection of fine antiques and art supplies, along with all the art. You won't go hungry, either, with food and drink vendors providing that all important sustenance.
This year's special guest is wooden decoy expert Joe Engers. Joe Engers is the editor of Decoy Magazine and The Great Book of Wildfowl Decoys.
Come join in the fun on Chincoteague!
Chincoteague Decoy Show 2019
August 31, 9am-5pm – September 1, 10am-4pm
Chincoteague Center, 6155 Community Dr
Chincoteague Lodging
Make your Chincoteague Island getaway the best with a stay at Miss Molly's Inn Bed and Breakfast. We have seven guestrooms to choose from, gourmet breakfasts, beach gear, and concierge services. Come experience the island life on Chincoteague's pristine beaches. Book your stay at Miss Molly's Inn Bed and Breakfast today!