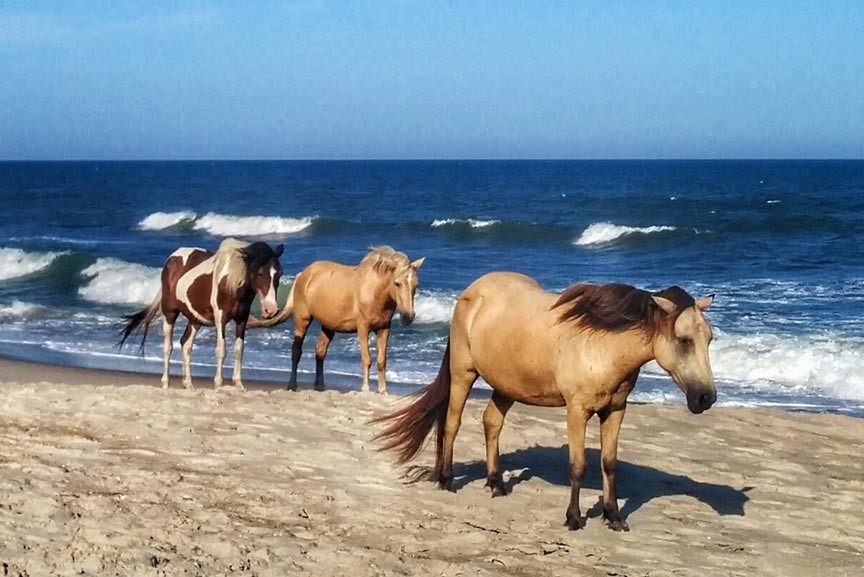 See the famous wild horses of Chincoteague up close during their annual Fall Chincoteague Pony Roundup. The Autumn 2019 Roundup is scheduled for Friday and Saturday, October 18th and 19th.
If you thought the annual Pony Swim was the only time you could come see the wild horses of Assateague, think again!
In fact, there are three opportunities each year to see the wild ponies. There's the Pony Swim (of course) but also the spring and fall roundups. While the purpose of the annual swim is for a health check and an auction of foals, these other roundups provide overall health checks for the herd. The Spring session also includes releasing foals from pony auction buybacks back into the herd.
Fall Chincoteague Pony Roundup
Chincoteague ponies live in two distinct herds on Assateague. There's a large herd that lives on the north side of the island and a smaller herd in the south. Each herd gets its own, separate health check roundup.
The southern herd's fall roundup is begins around 4:30pm on Friday, October 18th. The southern herd is always the first to receive its health check. They will be collected into the south pen, which is located on the road going to the beach on Assateague. The checkup usually only takes a couple of hours and there is plenty of parking for those who want to watch.
The northern herd's roundup is a little more involved for those who wish to observe because it is both larger and more remote. Reaching the pen for the health check requires a three-mile hike up the island's service road. Once the check is over, it's another 3 miles back to your car. The hike is an easy one but 6 miles is 6 miles – so be prepared.
The northern herd's roundup is scheduled for Saturday, October 18th, at 8am and can take up to 6 hours.
Take Home Your Own Misty
Like the annual Pony Swim, these health checks also include an opportunity to buy a Chincoteague foal.
Any foals born since the last health check will be brought to the carnival grounds. Interested buyers should plan on being at the Chincoteague carnival grounds on Saturday, October 18th, no earlier than 3pm.
Learn more about the fall Chincoteague pony roundup and buying a Chincoteague foal at the Chincoteague Chamber website.
Chincoteague Lodging
Coming to Cincoteague to see the famous wild ponies? Make your trip that much better with a stay at the Chincoteague bed and breakfast where Marguerite Henry conceived of her famous book: Misty of Chincoteague! Miss Molly's Inn Bed & Breakfast is a historic Chincoteague inn providing comfortable guestrooms, daily gourmet breakfasts, beach gear, and more! Book your stay today!