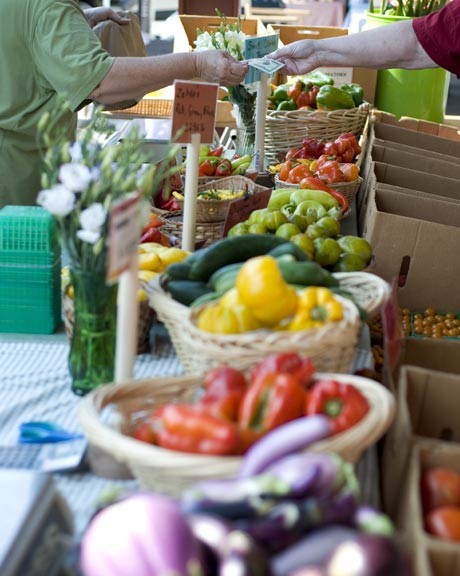 Looking for some fun and locally grown and prepared foods during your Virginia Coast getaway? If so, the Chincoteague Island Farmer's Market is for you!
Across the nation, farmer's markets are making a come back as more and more people focus on locally grown, healthy, whole and raw foods. Trendy or not, that's a good thing. Farmer's markets promote local economic health and are more sustainable than big, corporate markets. Sustainability begins with locally grown and prepared food, as well as other goods.
Plus, as those of us in smaller communities who've never lost our farmer's markets know, it isn't all about sustainability, either – it's also about fresher, tastier, superior food!
Farmer's markets also foster a greater sense of community between growers, artisans, and their clientele – all of whom are likely neighbors – but that's not to say that "outsiders" aren't welcome to the Chincoteague Island Farmer's Market – to the contrary!
A sense of local pride that wants to be shared is part of the farmer's market dynamic – and what better way to share that pride than by sending the results of your labors home with someone from a different town, state, or country?
The Chincoteague Cultural Alliance (CCA) hosts the Chincoteague Island Farmer's Market at on Church Street on Chincoteague Island most Saturdays from April to mid October, with Wednesdays being thrown into the mix from the end of may through the beginning of September. Local farmers bring a vast array of items to the Chincoteague Island Farmer's Market. You'll find seedlings, flowers, freshly harvested vegetables and fruits, cheeses, local meats, seafood, honey, eggs, jams and fresh baked goods, plus arts and crafts — and all from local producers!
Come experience the Chincoteague Island community spirit at the Chincoteague Island Farmer's Market – there is plenty of free parking and the friendly atmosphere will lift your spirit!
Chincoteague Island Farmer's Market 2015 Schedule
April 4 to May 16 – Saturdays, 9am to 1am
May 23 to September 5 – Wednesdays and Saturdays, 8am to 12am
September 12 to October 17 – Saturdays, 9am to 1am
6309 Church St, Chincoteague Island, VA
Chincoteague Island Farmer's Market Lodging
Miss Molly's Inn Bed and Breakfast is proud to be part of such a vibrant, happy, and welcoming island community as that which exists here on Chincoteague. Let us share the Chincoteague spirit with you by offering accommodations at our Chincoteague Island B&B.Our seven bedroom, Victorian bed and breakfast is conveniently located on Chincoteague Island's historic Main Street, just minutes from shops, restaurants, and the National Seashore and Wildlife Refuge that is home to the famous wild ponies of Assateague Island.