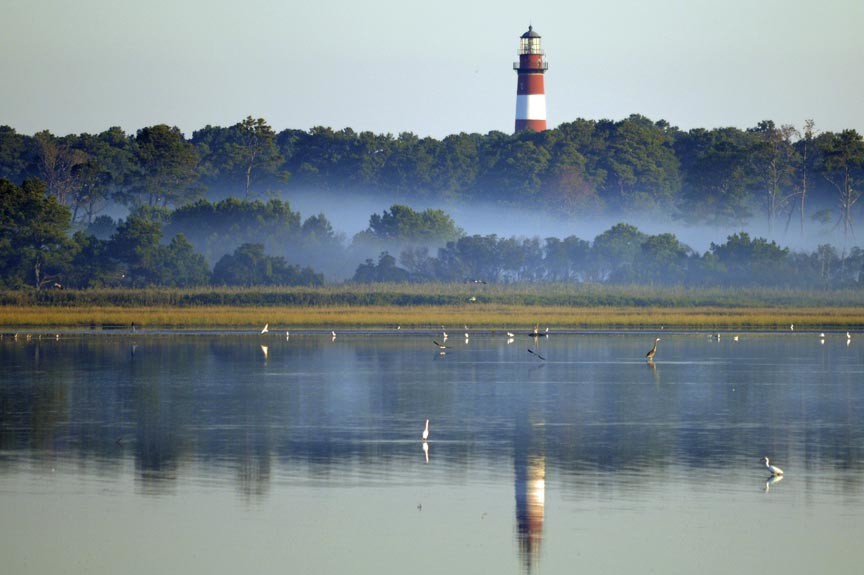 Come to Chincoteague Island and visit Assateague Lighthouse, located in the pristine Assateague Island National Seashore with it's marshes, beaches, wild horses, Sika elk, and colorful, endangered waterfowl.
There are numerous reasons to come to Chincoteague Island, not the least of which are the wild ponies, made famous, in part, by Marguerite Henry's book "Misty of Chincoteague." Then there are Chincoteague's beaches, boat tours, activities like fishing, birding, biking, and hiking. We also have a town of quaint shops, galleries – and who can forget our restaurants with their delicious, fresh seafood?
Nearby Assateague Island, only three miles away, stretches along the coast from Virginia to Maryland and is covered with protected marshes and beaches: Chincoteague National Wildlife Refuge. Here, on the south side of the island, among the wooded trails and bicycle paths that meander the refuge is historic Assateague Lighthouse.
Chincoteague and Assateague Islands are relatively flat, making them perfect for biking or walking. With the lighthouse located close to the bridge that crosses between the two islands, many choose to bike the three easy, island miles from town.
Assateague Lighthouse is part of the once vital chain of coastal lighthouses that helped to keep shipping and fishing quite literally afloat and off the rocks. Many historic lights continue to protect and direct vessels into the modern day and Assateague Lighthouse is one of these active lighthouses.
Initially built to a height of only 45 feet in the 1830's, the current, conical, red brick tower was constructed atop a bluff in 1867 to replace the original. Assateague Lighthouse is one of less than 20 lighthouses of its kind still functioning on the Eastern Seaboard. The 139 foot tower's rotating light is visible from up to twenty-two miles at sea.
Visitors are welcome to climb to the top of the lighthouse and take in the absolutely eye-popping views it affords, not to mention the experience of having climbed a historic lighthouse! If you do visit, please consider making a donation to help keep this historic light open for visitors.
Assateague Lighthouse
Open April through November, Saturdays and Sundays, 9am to 3pm
Call ahead (757-336-3696) for tours
Assateague Lighthouse Website
Assateague Lighthouse Lodging
Whatever brings you to Chincoteague Island, Miss Molly's Inn Bed and Breakfast is here for you! We love to help guests make the most of their Chincoteague Island getaway and, beyond the uncommonly plush amenities of our seven bedroom Victorian B&B, we have bikes you can use to ride out to Assateague Lighthouse. We can also help arrange tours for you by calling ahead. Just let us know what you hope to do when you book your stay – 757-336-6686