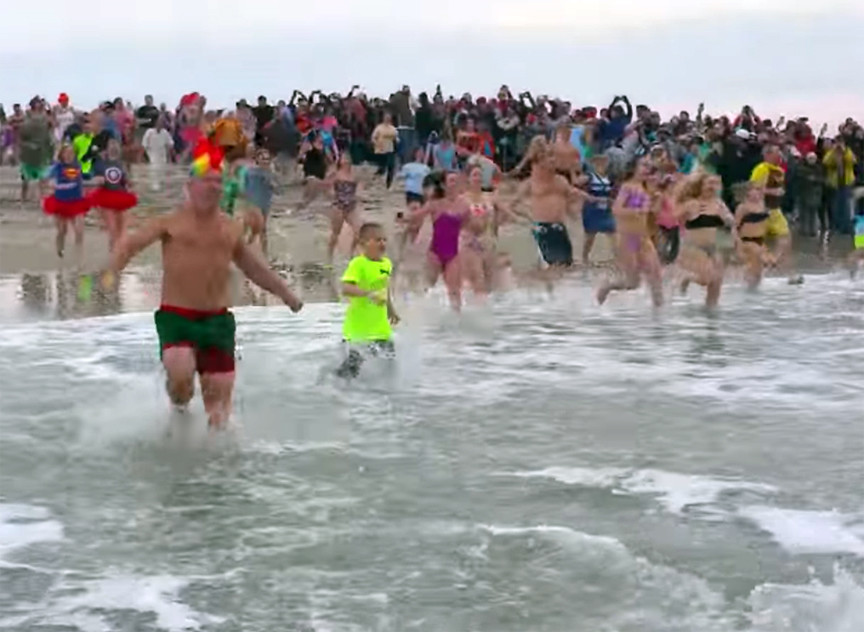 It's nearly that time again: January 1st, 2017 and the Chincoteague Island Polar Pony Plunge! Come celebrate the first day of the New Year with an invigorating dip in the surf off Assateague Island!
Every year the good people of Chincoteague Island and a healthy helping of visitors celebrate New Year's Day by flinging themselves into the bracing Atlantic waters off Assateague Island.
And you can join them!
The date is the first of January, 2017 and, each year, the time reflects that date. This year's Polar Pony Plunge, for example, is set to occur at 1:17pm. What they'll do after the year 2059, I do not know – but that's neither here nor there.
Part of the fun of the Chincoteague Island Polar Pony Plunge, beyond the ice cold water making your heart stop, is the costume contest.
While participants of the plunge are not required to dress-up before flinging themselves into the sea, it is encouraged. And the wackier, the better. Prizes are given for the best costumes and there are a number of categories, so go for it. Just make sure your costume can stand getting wet … and is buoyant.
Water temperature is always tested to make sure that it's at least -10 degrees Fahrenheit or warmer. If it's too cold, participants will be restricted to immersing singular body parts, such as a foot or arm, rather than their entire body. The Polar Pony Plunge is meant to be fun, not dangerous.
While the event is great fun to participate in, simply watching from the sidelines is fun, too. And a little warmer. There is no fee for participating and Polar Pony Plunge 2017 t-shirts will be available for $20.
This year's Polar Pony Plunge is requiring a waiver and release form. You can fill this out on the day of the event but, if you know you'll be attending, you may as well pre-register online, instead.
Polar Pony Plunge 2017
January 1st, 2017 – 1:17pm – Assateague Island Beach
Event Registration (required to particiapte)
Be sure to visit www.chincoteaguechristmas.com for more information.
Polar Pony Plunge Lodging
Miss Molly's Inn is open year-round on Chincoteague Island. We're happy to provide our signature combination of old-world charm, modern amenities, and unbeatable customer service. Let us keep you warm, well-fed, and happy during your Chincoteague Island getaway! Book your stay at Miss Molly's Inn Bed and Breakfast today!