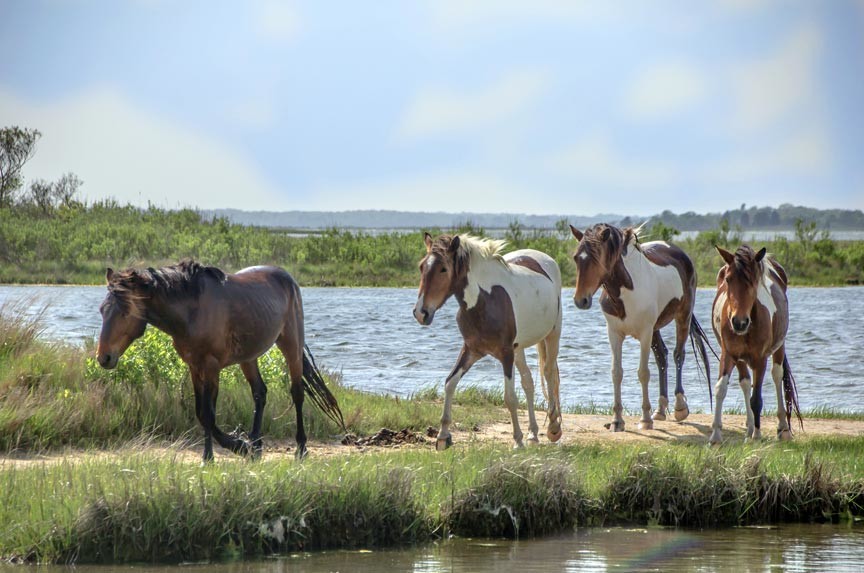 It's almost Chincoteague Pony Swim time! The 92nd annual return of the island's signature event is scheduled for July 26th, 2017!
If the date for this year's Chincoteague Pony Swim seems a touch early to you, you're absolutely correct. This is the earliest date for the swim that we have seen in many years. Consequently, time is of the essence! If you're planning on coming to witness this amazing event, you'll want to start planning your visit now.
Thousands of people come to Chincoteague Island during summer Pony Penning week. Many are surprised to learn that the event takes up a whole week. Does it really take the horses that long to swim from one island to the next? Of course not! But you have to remember that the Chincoteague Pony Swim is just the centerpiece to Pony Penning week. There's also the carnival, pony auction, fireworks, and more!
Experience The 92nd Annual Chincoteague Pony Swim!
– 2017 Chincoteague Pony Penning Schedule –
Chincoteague Carnival Opening Ceremony and Welcome – June 23-24, 7pm to 11pm
Chincoteague Carnival – June 30-July 1, 7-8, 14-15, 21-22, 24-29, 7pm to 11pm
Rides, games, food, and raffles.
Old-Fashioned Fireworks Display – Saturday, July 1, 10pm
(Rain date July 3 or July 4)
South Herd Roundup – July 22, 4:30pm (approx)
North Herd Roundup – July 23, 7am (approx)
Pony Beach Walk – July 24, 6am
Watch the ponies walk from the north corral to the south corral along the beach.
Chincoteague Pony Swim Day – July 26, 6am to 8am window
Free shuttle service runs from 4am 'til one hour after ponies arrive at the Carnival Grounds.
Trolley service begins at 11am in front of Carnival Grounds – $0.25 per ride
Chincoteague Pony Auction – July 27, 8am
Held at the Carnival grounds.
Pony Swim Back to Assateague – July 28, TBD
Be sure to visit www.chincoteague.com for an in-depth look at the annual Chincoteague Pony Swim.
Chincoteague Lodging
Whatever brings you to Chincoteague Island, Miss Molly's Inn Bed and Breakfast is here for you! Let us help you make the most of your Chincoteague Island getaway. We have bikes, beach gear, and would love to help arrange tours for you. Just let us know what you hope to do when you book your stay Miss Molly's Inn Bed and Breakfast – 757-336-6686.