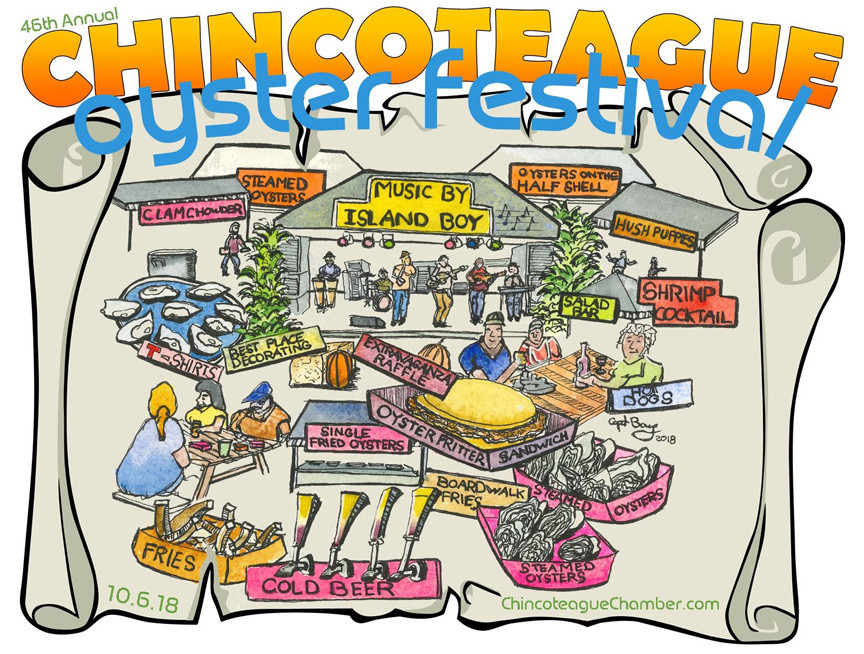 It's time once again to get ready for the Chincoteague Oyster Festival. This beloved annual event – the 46th! – welcomes the start of oyster season. Come join in the fun Saturday, October 6th, 2018, 10am to 4pm, at Tom's Cove Park on Chincoteague Island!
As oyster season approaches, it's hard to not let visions of those delectable little morsels intrude into your day. Steamed oysters, fried oysters, roasted oysters, grilled oysters, oyster fritters – the perfection of oysters on the half shell. Mmmmmmmmm …
Luckily, here on Chincoteague Island, you don't have to be content with your memory or imagination. Fresh seafood is always on the menu and that includes oysters. Chincoteague is known for its oysters. Our waters are responsible for producing "Chincoteague Salts" – a widely sought after variety.
Oysters played a big role in the history of Chincoteague. So much so that, even today, we celebrate them and the bounty of our waters every year.
Chincoteague Oyster Festival 2018 continues that tradition with an all-you-can-eat extravaganza. Come out to Tom's Cove Park this October 6th for oysters served raw, steamed, single fried, and frittered. There will also be clam fritters, clam chowder, shrimp cocktail, and hush puppies.
Want to come but not a big seafood fan (how's that again)? No worries! There will also be non-seafood fare like hot dogs, boardwalk fries, and a salad bar.
Your Chincoteague Oyster Festival ticket entitles you to all you can eat, including non-alcoholic beverages (beer will be available for sale). Chincoteague Oyster Festival also includes live entertainment, souvenirs, raffles, awards, and more.
Chincoteague Oyster Festival 2018
October 6th, 2018, 10am to 4pm at Tom's Cove Park on Chincoteague Island
10am – Gates open
11am – Appetizers served
12am – Full menu available
4pm – Festival ends
Chincoteague Oyster Festival tickets to this event go fast, so don't hesitate! Visit the Chincoteague Oyster Festival website for tickets, directions, and other information.
Chincoteague Oyster Festival Lodging
Miss Molly's Inn is the perfect compliment to any Chincoteague Island getaway. Located on Chincoteague's historic Main Street, we're minutes from shops, restaurants, and more, including the famous wild ponies of Assateague Island. Book your stay at Miss Molly's Inn today!