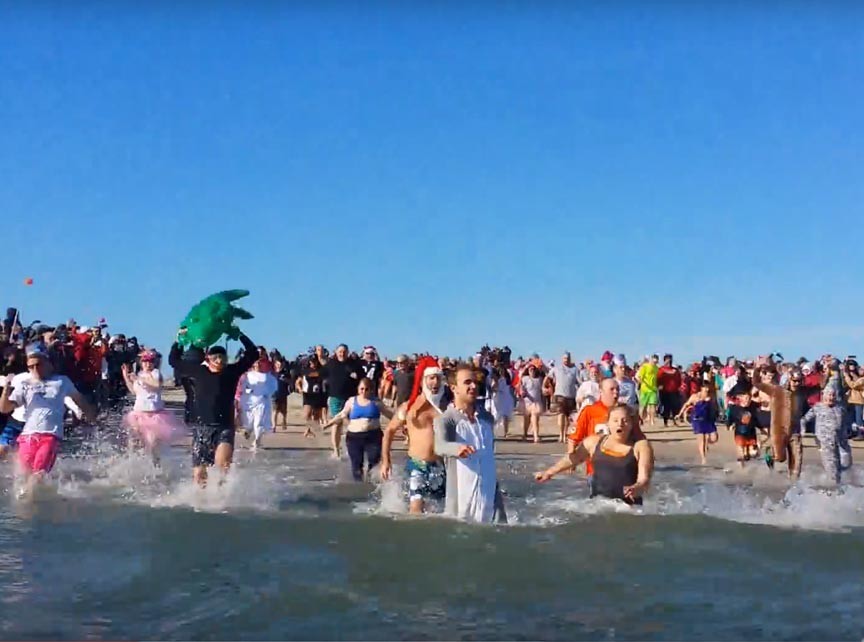 Kick off the 2019 the right way by flinging yourself headlong into Assateague Island's freezing surf on New Year's Day during Chincoteague Polar Pony Plunge 2019!
There are lots of polar plunges on New Year's Day but Chincoteague's is different from all those others.
How?
Well, for one thing, ours occurs off the beach of Assateague Island – I guarantee you no one else's does that. Oh, and ours is a polar PONY plunge, not just a polar plunge. This is Chincoteague Island, after all, home of Misty and many other wild ponies, so it only follows.
Chincoteague Polar Pony Plunge 2019
The Chincoteague Polar Pony Plunge occurs every New Year's Day on Assateague Island. Well, almost every year. Some years, the weather is simply too … polar for safety (I'm looking at you, 2018). But those years are the exception, not the rule.
The starting time for each year's Polar Pony Plunge takes its cue from the new year. This year's event, for example, is for 2019, so it will begin at 1:19pm.
See what they did there? Pretty clever. I've no idea what we're going to do after the year 2059, however.
Attendees can either line-up to jump in the surf or join the sane who cheer and document it with their devices from the safety of the shore. If you do intend to get wet, however, you'll need to fill out the online entry form and waiver.
For an extra-fun time, dress up in a silly costume. If you dressed up for the Costume Promenade at the 2018 Pony Island Horseshoe Drop, you may still have your hero or villain costume on. Don't change: it's wash and wear, isn't it?
As with the previous evening's New Year's Eve Costume Promenade, prizes in many categories will be given to those who dress up. You can also purchase a commemorative Polar Pony Plunge 2019 t-shirt!
Learn more online at chincoteaguechristmas.com.
Chincoteague Island Lodging
Miss Molly's Innis open year-round. We'll keep you cool in the summer, warm you up after Polar Pony Plunge 2019, and keep you well fed and comfy all the times in between! No matter when you visit Chincoteague, be sure to book your stay at Miss Molly's Inn Bed and Breakfast!