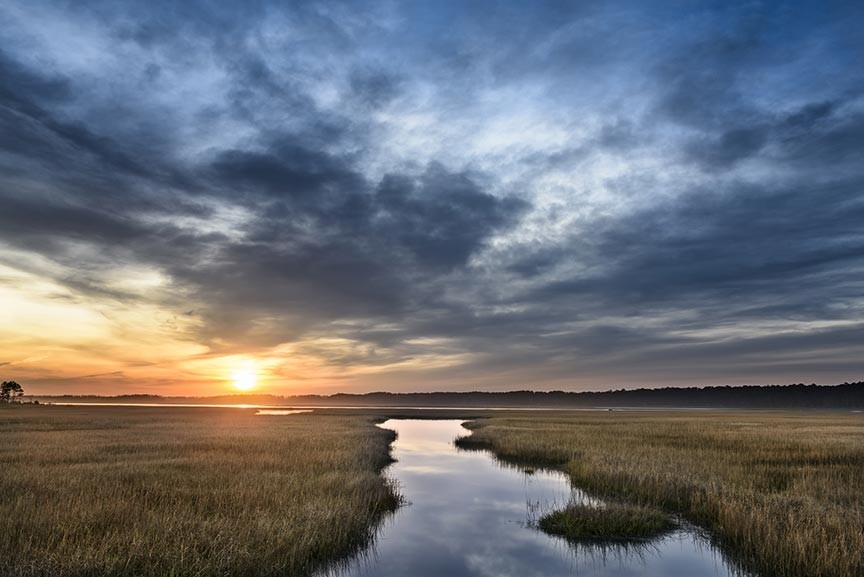 Our Virginia coast island is quite famous for the annual wild pony swim – but what else is there to do when that's over? Quite a lot, actually. Follow along as we list some of the most popular things to do on Chincoteague Island.
There is always something fun or interesting to see and do here. The island is a beautiful, Virginia coast paradise all year 'round. That being said, we're also a small community. Visitors frequently wonder what all there is to do here, especially this time of year – during the "off-season."
As we've said before, for many the "off-season" isn't "off" at all – it's THE best time for a visit. It's almost treated like a big secret: all the best parts of the island are still here, only the crowds of tourists are missing!
While some of the items below are seasonal, most are year 'round attractions. So come on and let's take a look at –
The Top Ten Things To Do On Chincoteague Island
1. Assateague Island National Seashore –
This long barrier island off the coast is shared by Maryland and Virginia. Virginia's section remains virtually untouched. There are miles of pristine Atlantic ocean beaches and various nature trails to explore. website
2. Chincoteague National Wildlife Refuge –
This 14,000-acre wildlife preserve located on Assateague Island is home to a large variety of wildlife animals and birds, including the famous wild ponies. website
3. NASA Wallops Visitor Center on Wallops Island –
One of the oldest rocket launch sites in the world is just 10 minutes from our Chincoteague inn. The state-of-the-art visitors center is fascinating – and you can watch live NASA rocket launches from either there at the facility or from Robert Reed waterfront park here on the island! website
5. The Bike Depot –
One of the most popular ways to get around the island is by bike. Miss Molly's has bikes for our guests, along with other beach gear. If you need more than we can offer, however, The Bike Depot is the way to go! They have bikes, beach gear, maps of the island, and more! website
6. Assateague Lighthouse –
Assateague Lighthouse, built in 1867, is only 3 miles from our Chincoteague B&B. The historic, 142 feet tall lighthouse is open for tours on weekends, April through November. website
7. Museum of Chincoteague Island –
Come discover the island's colorful history, complete with natives, explorers, Revolutionary and Civil War soldiers, shipwrecks, oysters, and, of course, wild ponies. website
8. Pony Express Nature Cruise –
Get onto the water with a native boat captain for a scenic cruise and enjoy a spectacular coastal experience. Wild ponies, dolphins, eagles, shorebirds, close up views of Assateague Lighthouse, and more. website
9. Pony Express Trolley Tours –
The Pony Express is a seasonal transportation service that follows fixed routes around the island. Narrated history tours are also available during summer Tuesdays and Thursdays. website
10. Chincoteague Trails and Parks –
The Island is home to a number of excellent parks and trails. Get out and explore the island on foot, bike, kayak – or even just a beach chair. You're on island-time, now! website