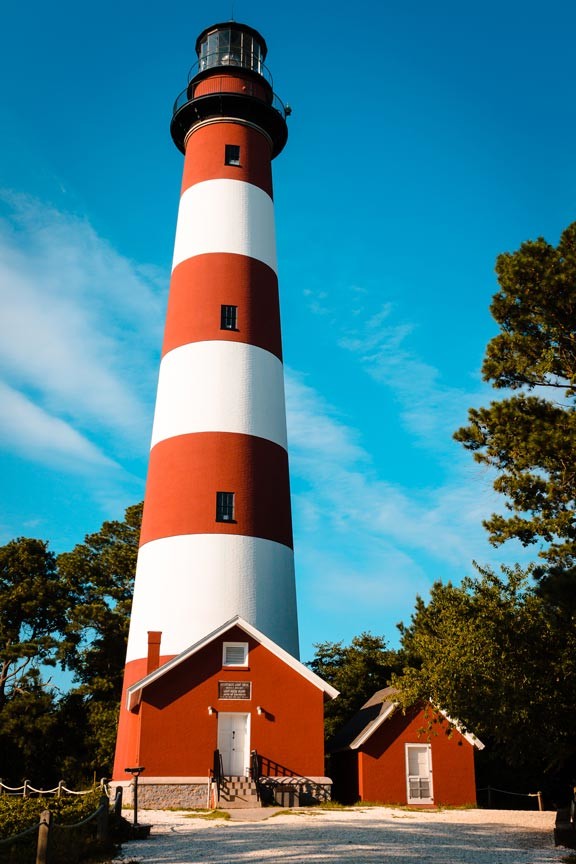 The majestic, red and white striped tower of Assateague Lighthouse opens to visitors in April. Come discover the history and amazing views from the top of this iconic Virginia coast lighthouse!
Assateague Lighthouse is located within the pristine confines of the Chincoteague National Wildlife Refuge. The historic red and white stripped tower shares the island with white tailed deer, Sika elk, colorful waterfowl, and the famous wild horses.
The Assateague Light is part chain of historic coastal lighthouses. While many historic lighthouses have been decommissioned over the years, around 20 remain in service, including Assateague.
Despite being an active light, Assateague Lighthouse is opened to visitors during the warmer months each year.
Assateague Light History
Before the 1830's, much of the Atlantic Coast was lacking in guiding lights. As shipping commerce grew, Congress move to appropriate money to rectify the situation. Assateague Island was chosen for such an honor in 1832.
This first light's tower proved too short at 45 feet, so a new, taller structure made of brick was begun in 1860. Construction on this 142 foot tall tower, the one seen today, was interrupted by the Civil War and not put into operation until 1867.
Initially, the Assateague Light was a mere candle! This was upgraded to oil lamps, then a fixed light with a first-order Fresnel lens, and finally the electronic beacon of today.
Visit and Climb Assateague Lighthouse
Assateague Lighthouse opens for visitors, April through November. Admission is free but do consider a donation, as it helps to keep the lighthouse maintained and open to visitors.
The grounds include not just the tower but also a lighthouse keeper's home and an oil house. The main attraction is the tower, though and yes – you can climb it!
It's quite the climb – 175 steps! Back in the old oil lamp days, the keeper had to ascend the tower every hour with two five-gallon cans of oil to keep the light going. Yikes! The view from the top is more than worth the effort, though. You'll have views as far as Wallops Island and portions of coastal Virginia and Maryland.
You can easily reach the lighthouse parking lot by car. The reserve has a variety of trails, including a lovely, quarter mile loop trail from the parking lot to the lighthouse. There is also a nice bathing beach on the island's southern tip.
Assateague Lighthouse
The tower is open for tours April through November. Learn more about visiting the light at www.assateagueisland.com.
Chincoteague Lodging
Let Miss Molly's Inn Bed and Breakfast help you to make the most of all your Chincoteague adventures! Our incredibly comfortable and welcoming guestrooms will have you feeling right at home. Our convenient location puts the best of the area at your fingertips and we are more than happy to help you arrange your visit with our concierge services. Book your stay at Miss Molly's Inn today!