June 20, 2021 by Corey A. Edwards
Chincoteague Pony Swim 2021 may have been cancelled and the annual pony auction moved online but you can still see the ponies during your Chincoteague getaway this summer. The island is open, the weather is great, the ponies are here, and there's plenty to do and see!
Summertime is always a special time in Chincoteague. This remains true even with Chincoteague Pony Swim 2021 and the annual Fireman's Carnival cancelled. Those coming specifically for the wild ponies will be happy to learn that there are lots of ways to see and learn about them outside of the annual swim.
Read the rest of this page »
June 9, 2017 by Corey A. Edwards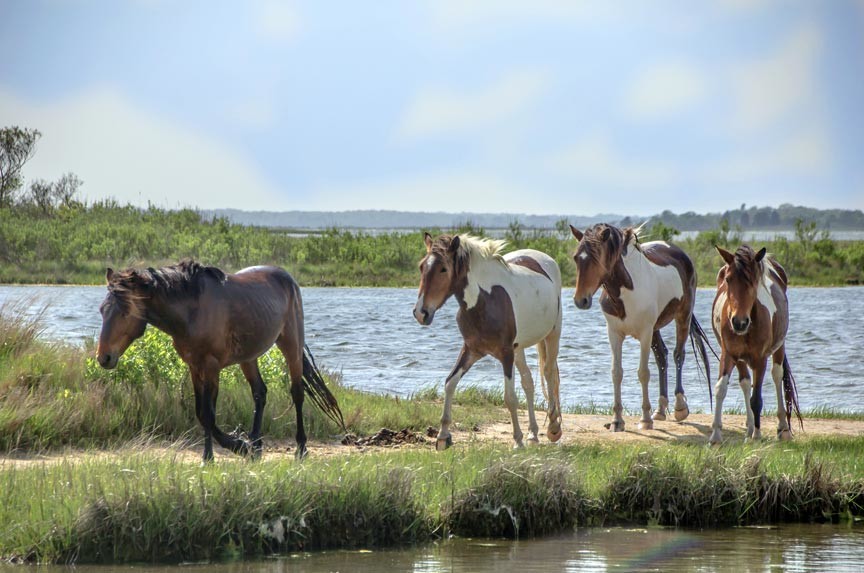 It's almost Chincoteague Pony Swim time! The 92nd annual return of the island's signature event is scheduled for July 26th, 2017!
If the date for this year's Chincoteague Pony Swim seems a touch early to you, you're absolutely correct. This is the earliest date for the swim that we have seen in many years. Consequently, time is of the essence! If you're planning on coming to witness this amazing event, you'll want to start planning your visit now.
Thousands of people come to Chincoteague Island during summer Pony Penning week. Many are surprised to learn that the event takes up a whole week. Does it really take the horses that long to swim from one island to the next? Of course not! But you have to remember that the Chincoteague Pony Swim is just the centerpiece to Pony Penning week. There's also the carnival, pony auction, fireworks, and more!
Read the rest of this page »
January 21, 2013 by insideout
Has it always been a dream of yours to see the infamous Chincoteague Pony Auction? For many horse lovers and fans of Misty of Chincoteague, this event is something they've pictured hundreds of times. If the same goes for you, it is time to start thinking about planning your trip!
This July will mark the 88th year of the pony swim. Tens of thousands of spectators from around the world will gather on our little Island to watch this annual tradition. In this blog, we are going to give you some advice for when you attend.
July 20 & 21: The Pony Round-Up
The weekend prior to Wednesday's Pony Swim, the "Saltwater Cowboys" – the fellas that drive the ponies across the water on horseback – will begin rounding up the approximately 150 wild ponies that live on Assateague Island.
Read the rest of this page »