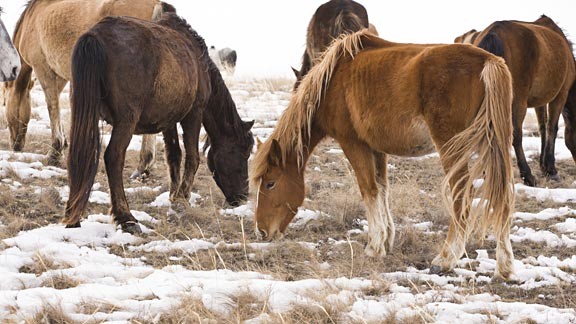 Like the rest of the Chincoteage Island, just because it's winter doesn't mean the wild ponies of Assateague Island's Chincoteague National Wildlife Refuge have been rolled up and stored away until spring!
They're still here and, as a matter of fact, as long as you don't mind the lower temperatures, now can be the one of the best times of the year to see them as you wont be fighting the crowds.

The two herds – one northern, the other southern – are fairly predictable in their behavior and, thus, usually pretty easy to track down.
For the northern herd, you'll need to hike in about 4 miles on the service road that runs north from the end of the wildlife loop. Once you pass the small corral and cattle guard, you're in their territory. You may spot the herd grazing in the marsh flats or they may be on the road. Given the amount of space this herd has, they may not be in sight at all but chances are, you'll see them. Should you see them, be sure to give them a lot of space and time to get used to your presence.
The southern herd is a little easier to check out. Just pull off of Assateague Island's main drag – Beach Road – right after the 25 mph area, across from Black Duck Marsh Pool. You'll have great photo opportunities here even if the ponies aren't present, so be sure to bring your camera. The southern herd spend a lot of time among the pines and in the marshes just off this area. If you don't have any luck, try the pony lookout on the woodland trail. The hike isn't bad and catching a view of the herd makes it worth the effort.
Should you decide to go to see the wild ponies of Assateague Island, please remember they are not tame pets but big, wild animals. Your respect should be engaged not only for their safety but yours as well. Stay well away from them at all times, no matter where you spot them. Don't try to feed, pet, or otherwise engage them. They are beautiful, yes but unpredictable, too. Keep your distance and your head about you and you'll have a safe, wonderful time.