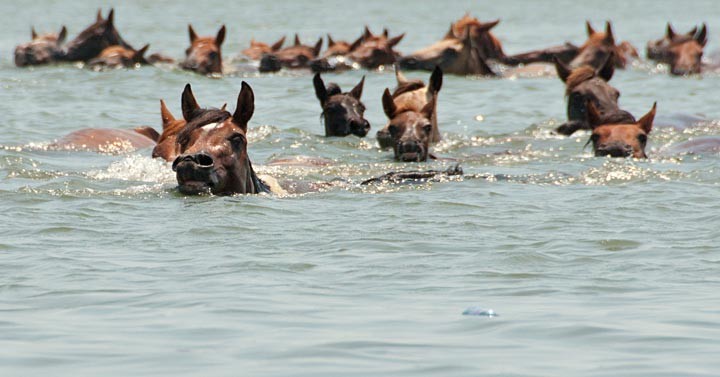 It may still seem like winter where you are but warmer weather is on the way and with it, the 2014 Chincoteague Pony Swim. If you hope to witness the 89th annual return of this wonderful, historical event, you'll want to start planning now.
The 2014 Chincoteague Pony Swim schedule was announced earlier this year so we thought we'd put together a guide of the events:
First is the Spring Pony Roundup, scheduled for the 11th and 12th of April, where the two herds on Assateague Island are collected, one herd at a time over a two-day period, for their annual veterinary checks. You are welcome to come witness this smaller, less crowded event but be aware you will only get a chance to see the southern herd.
Next up is the big event, the 2014 Chincoteague Pony Swim, which starts with a pony roundup on the weekend of the 26th and 27th of July. This event involves the saltwater cowboys of the Chincoteague Volunteer Fire Company rounding up the two herds of approximately 150 wild, Assateague horses into their respective corrals, just like in the spring.
Monday, the 28th of July will see the Beach Walk, when the horses of the northern herd are herded down the beach at daybreak to join the southern herd. Those on hand at 6am are welcome to watch this traditional sight.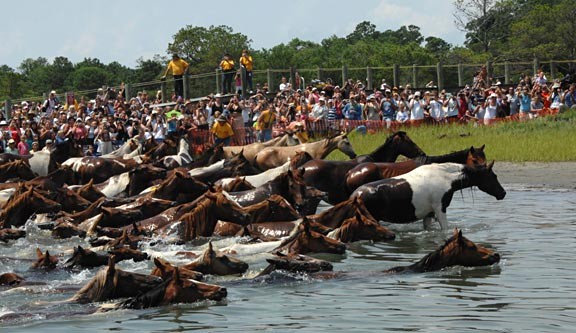 And now the main event: the 2014 Pony Swim and Parade to the Carnival Grounds, scheduled for Wednesday, July 30th. Timed to coincide with the slack tide to make the swim easier for all involved, the saltwater cowboys will drive the herd into the water to make the swim from Assateague to Chincoteague Island.
After a 45 minute rest, the ponies Parade down Main Street to the Chincoteague Fireman's Carnival, where the are penned up prior to the Pony Auction on July 31st at 8am. The first foal to come ashore during the swim is named King or Queen Neptune and is given away to a lucky raffle winner at the carnival. Raffle tickets can be purchased at the carnival and at Memorial Park before the swim.
On August 1st, the ponies swim back to Assateague Island, to live free for another year.