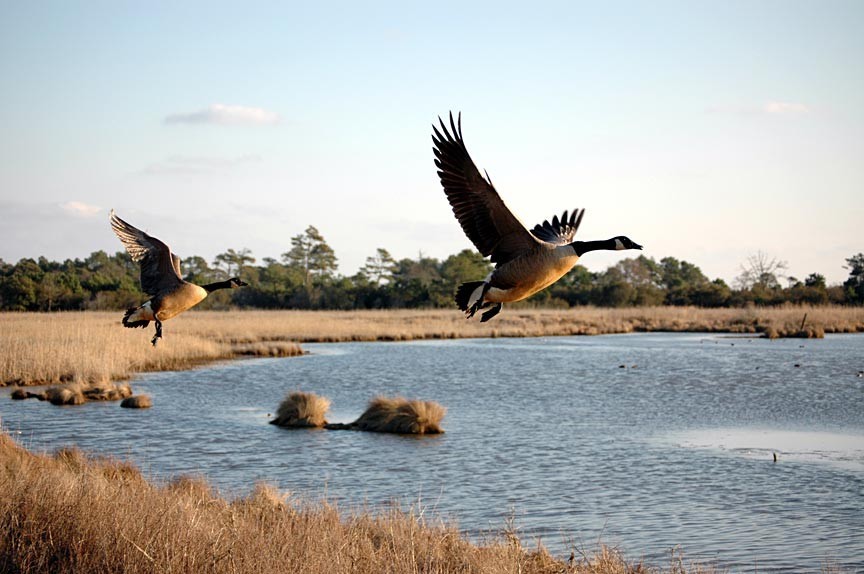 Assateague Island's Chincoteague National Wildlife Refuge is a major stopping point for the annual, fall migration of numerous species of waterfowl, peaking around the weekend of November 27 – just in time for the Assateague Island Waterfowl Weekend!
Just kidding – of course the annual, Assateague Island Waterfowl Weekend is scheduled to coincide with each year's autumn peak of migratory activity. This natural event sees thousands of different species of birds resting and feeding in and around the more than 14,000 acres of beaches, maritime forest, saltwater marshes, and freshwater marshes of Chincoteague National Wildlife Refuge.
During the Assateague Island Waterfowl Weekend, Chincoteague National Wildlife Refuge holds an open house of sorts, featuring special events and programs designed around both celebrating and educating visitors about the fall migration. Best of all, birders and photographers are invited on special guided walks through parts of the refuge normally closed to the public in order to give greater access to this incredible and beautiful natural spectacle.
Those who attend the 40th annual Assateague Island Waterfowl Weekend can expect to catch sight of herons, snowy egrets, brant geese, double-crested cormorants, snow geese, and both tundra and mute swans among other species of waterfowl. Known primarily as the home of the Chincoteague wild ponies, Assateague Island's part in the Great Atlantic Flyway is yet another wonderful facet of the Chincoteague National Wildlife Refuge's natural beauty and environmental importance.
Assateague Island Waterfowl Weekend Lodging
Assateague and Chincoteague Island's attraction is not limited to migratory waterfowl this time of year. Many species of bird watchers and nature photographers will also be flocking to the area. Miss Molly's Inn Bed & Breakfast offers the perfect habitat for all species of visitors this – or any! – time of year, but space is limited and will fill up fast. Book your stay at Miss Molly's Inn now!
2014 Assateague Island Waterfowl Weekend
Thursday, November 27, 2014 to Sunday, November 30, 2014