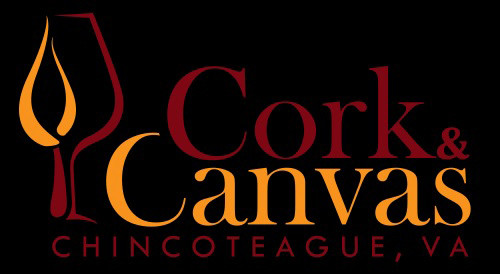 Come out to the 2017 Chincoteague Island Cork & Canvas Wine Festival for a day of live music, wine tasting, and art for a good cause. A potion of the proceeds for the festival go towards the Virginia Special Olympics. October 14th, 2017 at the Chincoteague Island KOA.
Come out to Chincoteague Island for an afternoon of wine and art! The second annual Cork & Canvas Wine Festival promises a host of fine, Virginia wines to sample in an artistic environment. Held at the Chincoteague Island KOA near Assateague's Wildlife Refuge, the festival is an excellent way to get out and about on the Virginia Shore.
The festival is more than just an outdoor wine-tasting however! Cork & Canvas celebrates both wine and artistic expression. Not only will there be artisans on hand and selling their own creations but also an opportunity for you create your own masterpiece!
Sip and Paint is an opportunity to enjoy a glass of wine while learning to paint from a pro. Let artist Dawn Tarr-Scott lead you down the path of happy creativity with step by step instructions. All supplies will be provided, no experience is necessary. Al you need is one hand for the brush, another for the wine glass, eyes, ears, and a game soul. Before you know it, both the wine and creativity will begin to flow!
Sip and Paint classes are available at 1pm and 3pm the day of the festival. Pre-registration is required, $45.
Along with all the wine tasting and paint pushing, the Cork & Canvas Wine Festival also includes live music in the form of local favorites, Lovin Cup. Lovin Cup's eclectic mix of classic rock, funk, and adult alternative will keep you bopping all day long.
The festival also features domestic and craft beer, food trucks, fresh seafood like Chincoteague oysters, kid activities, and much more. Plus it all takes place before breathtaking views of Chincoteague Bay and Assateague lighthouse.
Don't miss out!
Chincoteague Island Cork & Canvas Wine Festival 2017
October 14, 2017 12pm to 5pm
Chincoteague Island KOA
6742 Maddox Boulevard, Chincoteague, Virginia 23336
Your ticket provides you with a commemorative, 2017 Cork & Canvas Wine Festival tasting glass and unlimited wine tastings. Tickets may be purchased online and are $30 in advance, $40 the day of the festival. Designated drivers and minors are $10, kids under 13 get in for free.
Be sure to visit the event website or follow the event on Facebook for up-to-the minute updates.
Cork & Canvas Wine Festival Lodging
Many stay at the Chincoteague Island KOA during Cork & Canvas Wine Festival but if you're looking for more comfortable accommodations, allow us to offer our hospitality. Miss Molly's Inn Bed & Breakfast is a historic Chincoteague Island B&B located on Main Street, just minutes from most local attractions. Let our 7 guest rooms pamper you with creature comforts and our 5 porches refreshing sea breezes. Book your stay at Miss Molly's Inn today!