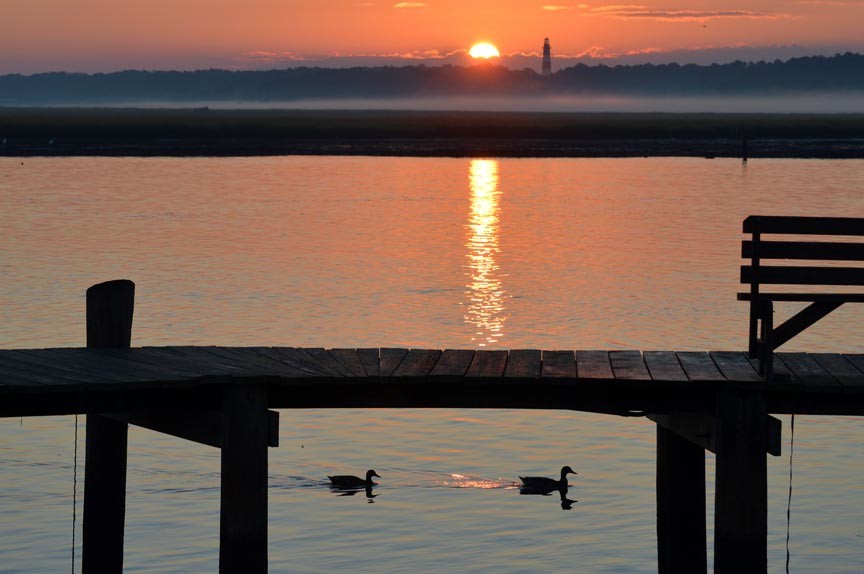 You've heard us say it before: what many would consider the "off-season" is, in many ways, the best time for a quiet, Chincoteague Island getaway. The wild horses, beaches, birds, fresh seafood, shops, and friendly townsfolk are all still here. The only thing missing is the crowds!
Chincoteague Island is a beautiful, Virginia coast paradise all the year 'round. We have our seasons, like any place else – but none of them are really "off," unless crowds is what you're after. All the attractions that make Chincoteague a vacation destination remain not only available but also far more easily enjoyed.
In fact, the so-called "off-season" lets Chincoteague Island really shine as an intimate getaway spot. Now is the time to come stroll our pristine beaches, and explore Chincoteague National Wildlife Refuge. Fewer tourists means more quality time and space to soak up what makes Chincoteague so special.
An "off-season" Chincoteague Island getaway also gives you a chance at a taste of island life. Come see how we islanders spend our down time here on Virginia's eastern shore.
Annual Downtown Events
February sees the 12th annual return of "Death By Chocolate," a free, 2-day event: February 16th and 17th, 2018.
Death By Chocolate involves collecting chocolates and playing-card validations from participating local merchants. Turn in your filled card to register for a the door prize drawing and 50/50 raffle at the Island Theater on Feb 17th. Read more here.
On March 16th and 17th, downtown will get into the wearin' o' the green with the annual "In Search of the Shramrocks" scavenger hunt. Participants scour downtown locations for hidden shamrocks and prizes – but watch out for leprechaun traps! Successful hunters are entered into a drawing for fun perks and prizes. More information.
Heritage Days Weekend
March also sees the seasonal reopening of Museum of Chincoteague Island: March 23-25, 2018. The day is celebrated via the annual Heritage Days Weekend event and marks the opening of the Miles Hancock Workshop exhibit. If you've never visited the Chincoteague Island Museum, you're missing out!
2018 Winter Classic Film Series
Another great way to enjoy your "off-season" Chincoteague Island getaway is at the Island Theater. The Island Theater is currently running it's annual Winter Classic Film Series, Friday nights at 7pm. Tickets are only $5 and give you the opportunity to enjoy some film classics on the big screen!
2018 Winter Classic Film Series
Fargo (1996) – Feb 2
Sergeant York (1941) – Feb 9
The Hundred Foot Journey (2014) – Feb 16
A movie themed dinner will be served in conjunction with "The Hundred Foot Journey" at The Annex for an additional fee.
Cat on a Hot Tin Roof (1958) – Feb 23
Around the World in 80 Days (1956) – Mar 2
Bridge on the River Kwai (1957) – Mar 9
The Quiet Man (1952) – Mar 16
Victor/Victoria (1982) – Mar 23
Mouse Hunt (1997) – Mar 30
Dr. Strangelove (1964) – Apr 6
Kinky Boots (2006) – Apr 13
A Man for All Seasons (1966) – Apr 20
12 Angry Men (1957) – Apr 27
A New Leaf (1971) – May 4
Cabaret (1972) – May 11
Bottle Shock (2008) – May 18
A movie themed dinner will be served in conjunction with "Bottle Shock" at The Annex for an additional fee.
These are just a few ideas of what you can do beyond the expected on an "off-season" Chincoteague Island getaway. For even more ideas, let us know what kind of things you're after and we'll be happy to make suggestions and even reservations, if needed. Miss Molly's is proud to offer concierge services on top of our other perks for our guests!
Chincoteague Island Getaway Lodging
No matter when you visit Chincoteague Island, Miss Molly's Inn is here for you. We're open year 'round and located on Main Street, just minutes from most local attractions. Come enjoy a great night's rest and so much more in one of our 7 guestrooms. Book your stay at Miss Molly's Inn Bed and Breakfast today!