October 10, 2020 by Corey A. Edwards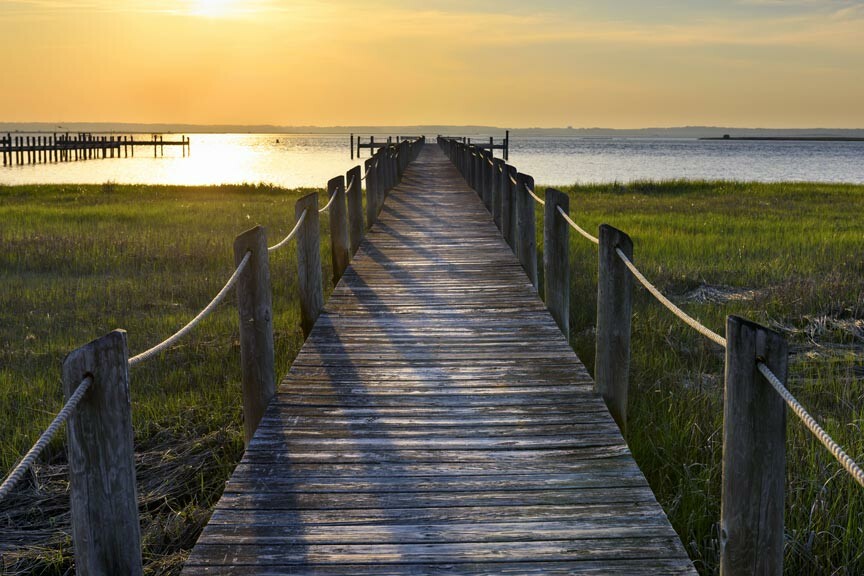 Are you tired of being cooped up and ready for a literal breath of fresh air? Come visit Virginia's Eastern shore on a Chincoteague Island getaway! Consistent with CDC guidance, Virginia does not have any current quarantine requirements for U.S. citizens arriving from outside the Commonwealth, making our area the perfect getaway.
Chincoteague Island, with its friendly, small community, wild ponies, and pristine beaches, is always good for a visit. A fact that is doubly true in times like these. Our peaceful, barrier island paradise is the perfect place to relax, recharge, and recenter one's self around the good things in life.
Staying at a smaller inn like Miss Molly's during your Chincoteague Island getaway, rather than a large hotel, has further advantages.
Read the rest of this page »
March 6, 2020 by Corey A. Edwards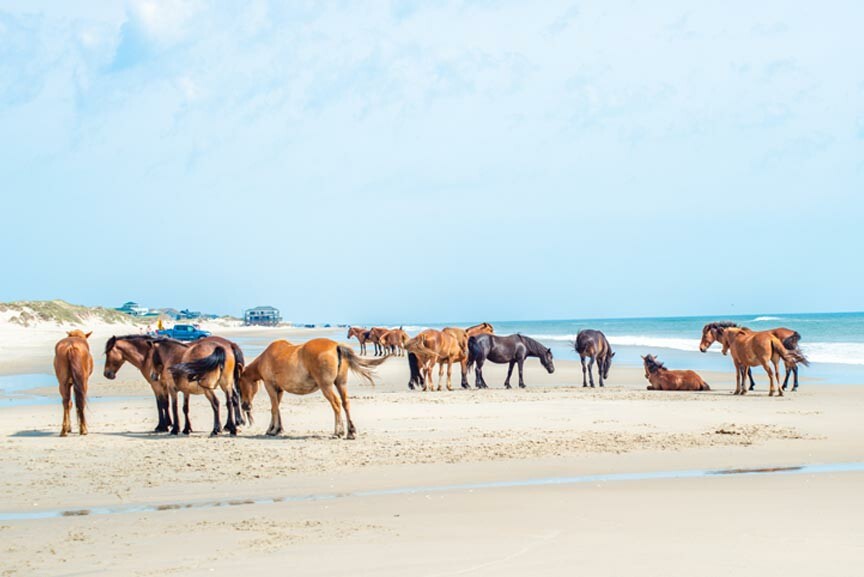 If you've always wanted to see the wild ponies of Assateague up close – but not the annual Pony Swim crowds – then Spring Chincoteague Pony Roundup is your best chance.
There are lots of ways to see the wild ponies of Assateague outside the annual, summer Pony Swim. Many local companies offer wild pony tours that will take you out to see them and the many other magnificent sights around Chincoteague.
Another great way to get a good look at the island's wild horses is during the annual spring and fall pony penning days.
Read the rest of this page »
December 1, 2017 by Corey A. Edwards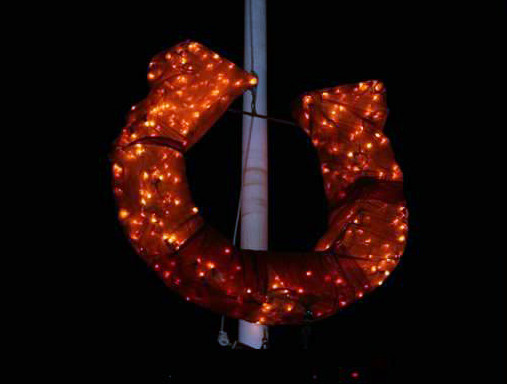 Ring in the new year on Chincoteague Island during the New Year's Eve Horseshoe Drop 2017! 10pm, December 31st in Robert Reed Waterfront Park.
Chincoteague Island is known as a beautiful vacation spot on Virginia's eastern shore. People come for our famous wild ponies, delicious, fresh seafood, pristine beaches, and vibrant wildlife. Many choose to enjoy us during the summer, while others prefer the relative quiet of our "off-season" during the holidays.
I put the "off-season" in quotes because Chincoteague Island doesn't actually have one. In fact, many think of the "off-season" as one of the best times of year to visit! Our average temperature in December is 50 degrees with sunny skies. Shops and restaurants are open, the beaches are still strollable and still lots of wonderful, winter wildlife to watch.
Read the rest of this page »
March 24, 2012 by insideout
Misty of Chincoteague was written in 1947 by Marguerite Henry. The story was inspired by a real Chincoteague Island pony named Misty. Although the real Misty was foaled in domesticity rather than in the wild, the book heaped pique the nation's curiosity about the wild horses of Assateague (they are called ponies because of their small size, but they are actually horses).
It has long been a tradition to cull the wild pony herd in order to protect both the horses and their habitat. The Annual Pony Swim first started in 1924, and it has done nothing but grow since that time. In recent years, approximately 150 wild ponies are rounded up each July and made to swim across the Assateague Channel to Chincoteague Island. Once there, many of the foals are sold in an auction; the remaining herd swims back to Assateague a few days later.
Wild ponies have lived on Assateague Island for approximately 400 years. No one knows for sure how the first ones ended up on the island. Perhaps Colonial settlers allowed their horses to graze on the island, and some turned wild and stayed. Perhaps wild horses from the mainland swam to the island and stayed. Perhaps a Spanish galleon ship carrying a cargo of horses sank near the island, and the horses swam ashore and lived. It is a fun puzzle to consider, but the truth doesn't really matter. What matters most is protecting the wild ponies that live on Assateague today.
Marguerite Henry, who visited Chincoteague and Assateague Islands, found a compelling story in the wild ponies, and she wrote it. Thanks to her, millions of young people have learned about the amazing wild horses that make their home on an island in the Atlantic. Many of those children grow up and eventually travel here to see the wild horses. Some of them stay at our Chincoteague Island Bed and Breakfasts.
Marguerite Henry herself stayed in one of our Chincoteague B&Bs, Miss Molly's Inn. Stay in the room where she once stayed. Perhaps you'll feel inspired to create something enduring, as well.