February 25, 2019 by Corey A. Edwards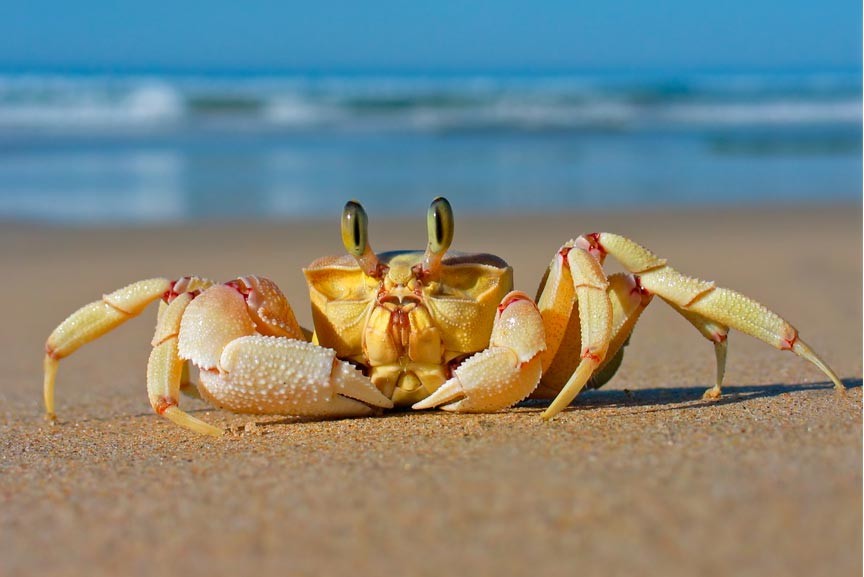 There's always something fun happening here on Chincoteague Island and that's particularly true once the weather starts warming up. The variety of spring events on Chincoteague provide plenty of options for visitors and residents alike.
Spring on Chincoteague is a dress rehearsal for the bustle of summer. The crowds are smaller, the events fewer but there is still enough of both to make for an exciting and fun getaway.
Of course, as we pointed out in our last post, you don't really need any special events to enjoy our Eastern shore, Virginia paradise. Even when the calendar is looking a bit thin, we still have Assateague Island National Seashore, Assateague Lighthouse, and Chincoteague National Wildlife Refuge to visit. This is not to mention all our parks, trails, beaches, wildlife, tours, cruises, shopping, museums, dining, theater, and so much more.
Read the rest of this page »
December 10, 2018 by Corey A. Edwards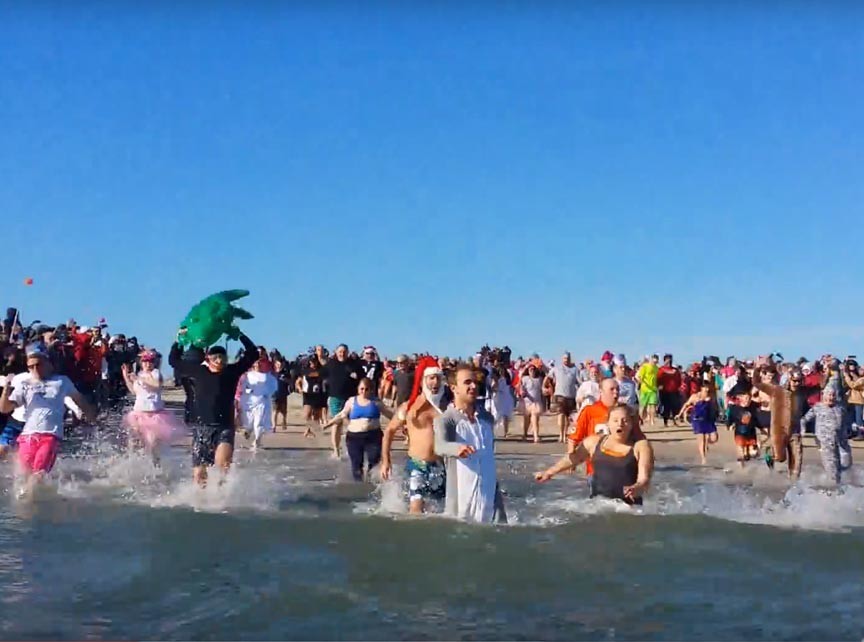 Kick off the 2019 the right way by flinging yourself headlong into Assateague Island's freezing surf on New Year's Day during Chincoteague Polar Pony Plunge 2019!
There are lots of polar plunges on New Year's Day but Chincoteague's is different from all those others.
How?
Well, for one thing, ours occurs off the beach of Assateague Island – I guarantee you no one else's does that. Oh, and ours is a polar PONY plunge, not just a polar plunge. This is Chincoteague Island, after all, home of Misty and many other wild ponies, so it only follows.
Read the rest of this page »
November 12, 2018 by Corey A. Edwards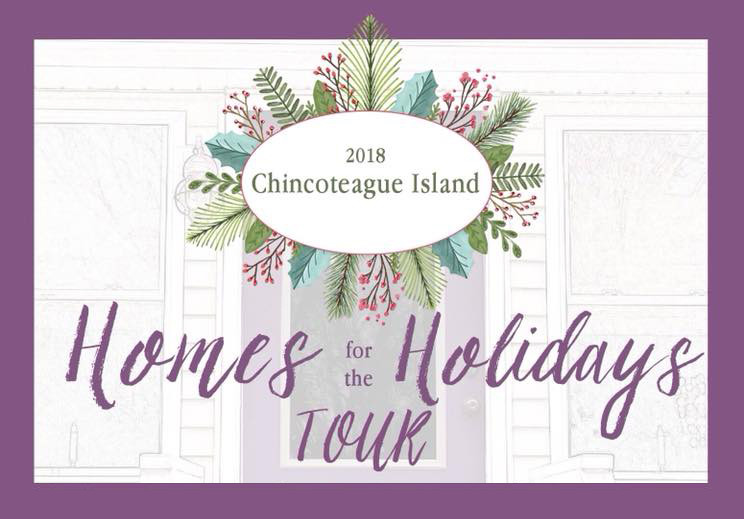 Get a look inside some of the island's most intriguing homes during the annual Chincoteague holiday home tour event, "Homes for the Holidays!" December 1st, 2018.
Come out to Virginia's eastern shore this December and enjoy a Chincoteague holiday getaway! There's always something doing on the island and this is doubly true during the end of the year holidays. Thanksgiving, Hanukkah, Christmas, and New Years bring their own brand of cheer and we love to share it.
Chincoteague Holiday Home Tours
One of the more popular events this time of year is the "Homes for the Holidays" Chincoteague holiday home tours. Chincoteague Island has a lot of unique, historic, and beautiful homes. During the holidays, these already beautiful homes are further enhanced by fantastic seasonal decorations.
Cruising local neighborhoods for their spectacular lights and decorations is a common holiday pastime around the country. Chincoteague ups the ante with the "Homes for the Holidays" home tours.
Chincoteague Island's diverse and eclectic community has a number of houses and businesses with unique architectural styles, historic pedigrees, or striking landscapes. During the "Homes for the Holidays" tour, you'll have the chance to inspect them up close. Come see inside some of Chincoteague's most remarkable homes and get decorating ideas for your own!
"Homes for the Holidays" Chincoteague holiday home tours are scheduled for December 1st, between 11am and 4pm. If you'd like to attend, contact Kim Dennis at 703-599-4430, or kimberly.dennis@msn.com.
Chincoteague Christmas Parade
Chincoteague holiday home tours aren't the only thing happening on December 1st. It's also the day of Chincoteague's annual Old-Fashioned Christmas Parade. How old-fashioned is our parade? It's so old-fashioned, we use the word "Christmas" instead of "holiday." Huzzah!
The Old Fashioned Christmas Parade includes marching bands, floats, antique cars, and fire companies from around the Virginia shore. Chincoteague's own Saltwater Cowboys will be on hand, along with Santa, and the return of King Neptune and his Mermaid Queen. Come join in the fun!
7pm, December 1st, 2018 on Main Street. Festivities begin with a concert by The Salt Marsh Ramblers at 6pm in Robert N. Reed Downtown Park.
Chincoteague Holiday Lodging
No matter what time of the year you visit Chincoteague Island, Miss Molly's Inn is here for you! Our historic, Chincoteague Island B&B offers luxurious rooms, daily gourmet breakfasts, concierge services, and much, much more. Book your stay today – and Happy holidays!
July 13, 2018 by Corey A. Edwards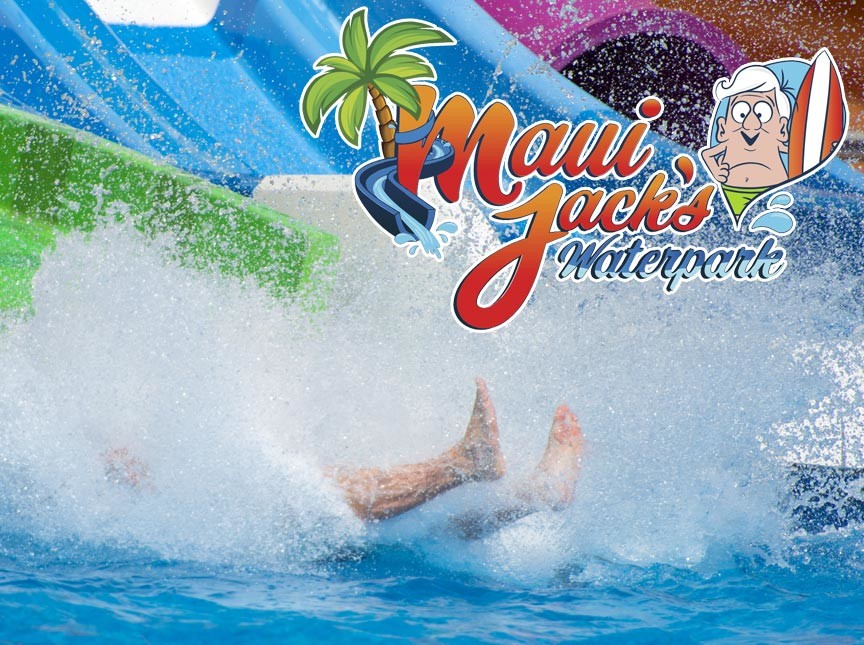 Chincoteague Island gained a new attraction this summer. Maui Jack's Waterpark offers over 4 acres of slides, rides, pools, cabanas, and more!
Given Chincoteague Island's lovely waters and pristine beaches, you wouldn't necessarily think we needed a water park. Then again, it's nice to have something new in the mix of local attractions – and Maui Jack's is definitely that!
Maui Jack's Waterpark opened on Memorial Day Weekend this year and is located next to the Chincoteague Island KOA.
Read the rest of this page »
May 18, 2018 by Corey A. Edwards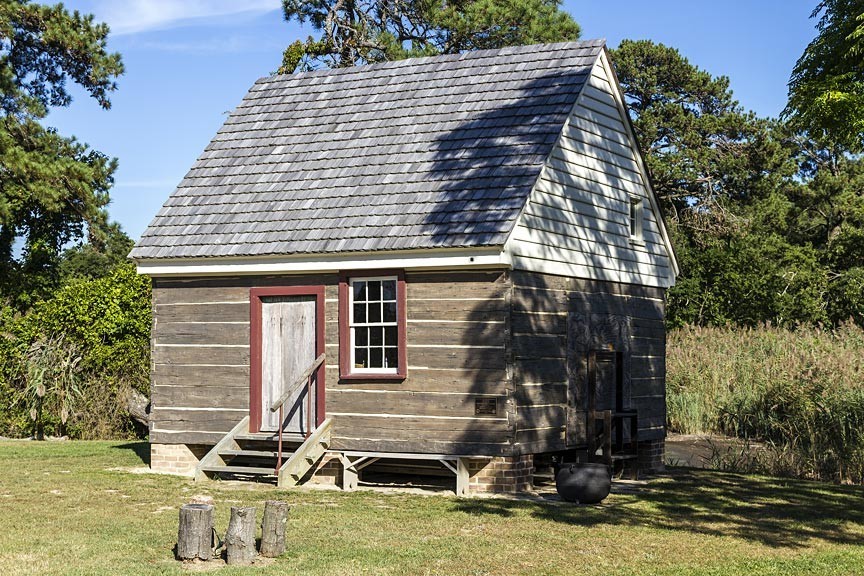 Chincoteague Island's Captain Timothy Hill House, built circa 1800, was abandoned in 1954, its past forgotten, and was almost torn down – but happy fate intervened. Come discover the oldest house on Chincoteague Island – The Captain Timothy Hill House!
The Captain Timothy Hill House was long thought to be just an old eyesore. The dilapidated, one room structure sat on Chincoteague's historic Main Street beneath vines and a facade of rotting weatherboard.
A local couple decided the old building, properly cleaned up and moved once again, would make a good bicycle shed. Little did they realize what they were getting into.
Closer inspection revealed dovetailed log plank construction and other interior details that aroused suspicion. Most curious were the depictions of early sailing ships carved into its exterior walls. Could this old shack have greater significance?
Read the rest of this page »
March 12, 2018 by Corey A. Edwards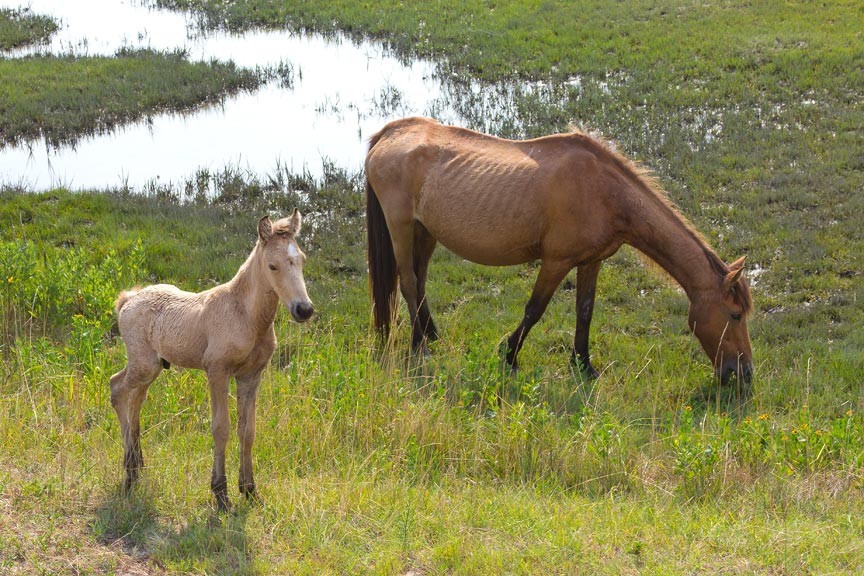 If you've ever dreamed of seeing the wild ponies of Assateague Island in person, the first opportunity of the year is right around the corner. The 2018 Spring Pony Roundup is scheduled for April 13th and 14th.
The wild ponies of Assateague Island are easily the #1 reason so many people know about and want to visit Chincoteague Island. Marguerite Henry's popular children's book, "Misty of Chincoteague," continues to make that true to this very day.
The annual summer Pony Swim draws more people to the island than any other single event. But did you know that's not the only time you can view the wild horses of Assateague Island?
Read the rest of this page »
January 26, 2018 by Corey A. Edwards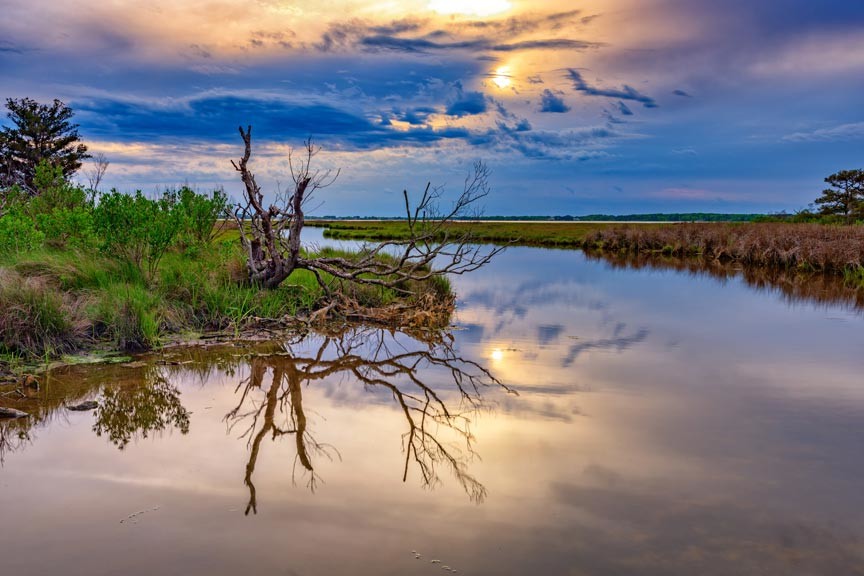 Come experience the natural beauty of Assateague Island National Seashore for free! 2018's remaining fee-free park days are April 21st, September 22nd, and November 11th.
118 of our nation's 417 national parks charge an entrance fee year 'round – except on fee-free days! Each year, the National Park Service designates a number of "fee-free" days that let you enter and explore our national treasures without charge. Amenity and user fees for activities may still be charged, of course, but entering and enjoying the parks are free!
The number of fee-free days vary from year to year. 2017 saw ten fee-free days while 2018 only has four. The first was January 15th, Dr. Martin Luther King, Jr. Day. The others occur on First Day of National Park Week (Apr 21), National Public Lands Day (Sep 22), and Veterans Day (Nov 11).
Assateague Island National Seashore is worth a visit whether there is a park entrance fee or not!
Read the rest of this page »
September 15, 2017 by Corey A. Edwards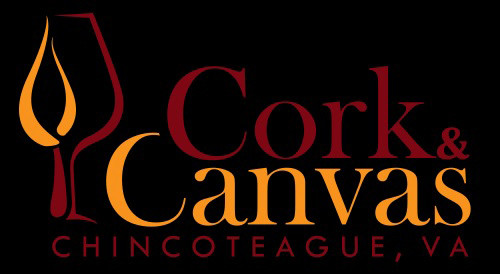 Come out to the 2017 Chincoteague Island Cork & Canvas Wine Festival for a day of live music, wine tasting, and art for a good cause. A potion of the proceeds for the festival go towards the Virginia Special Olympics. October 14th, 2017 at the Chincoteague Island KOA.
Come out to Chincoteague Island for an afternoon of wine and art! The second annual Cork & Canvas Wine Festival promises a host of fine, Virginia wines to sample in an artistic environment. Held at the Chincoteague Island KOA near Assateague's Wildlife Refuge, the festival is an excellent way to get out and about on the Virginia Shore.
Read the rest of this page »
August 15, 2016 by Corey A. Edwards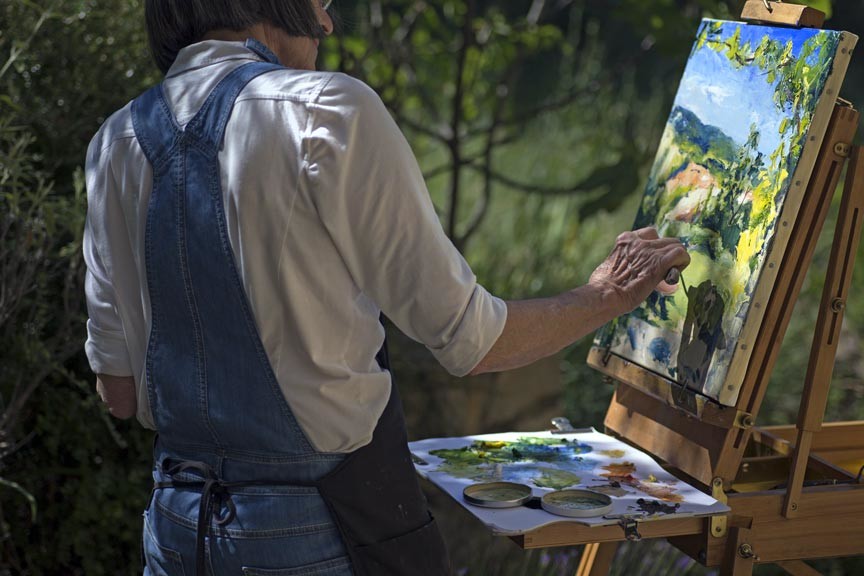 The arts come to life in September during the annual Chincoteague Island Decoy & Art Festival plus the Chincoteague Island Plein Air Art Show & Sale!
Chincoteague Island is the kind of community that attracts artists and art-lovers. This fact is made apparent throughout the year through various art-related activities and events.
The month of September is no exception with not one but two different art related events!

The Chincoteague Island Plein Air Art Show & Sale annually brings more than 50 fine artists to for some plein air painting on Chincoteague and Assateague.
What is "plein air" painting?
Plein Air comes from the French phrase "En plein air," meaning "in the open air." Plein Air painting is painting outside. It is also painting in against time, against the movement of the sun and clouds, the changing of the light. This necessity to capture a scene before it changes lends a sense of energy and excitement to the work. This kind of effect is an important component of impressionist paintings, like those of Pierre-Auguste Renoir, Camille Pissarro, and Claude Monet.
The artists paint at locations of their choosing around the islands. You may even see some of them at work, should you be here Friday or Saturday before the show. The sale on Saturday night allows you to meet the artists, discuss their works and, if you choose, buy on of their beautiful Chincoteague landscapes home with you! Be sure to come early, as the best pieces sell quickly.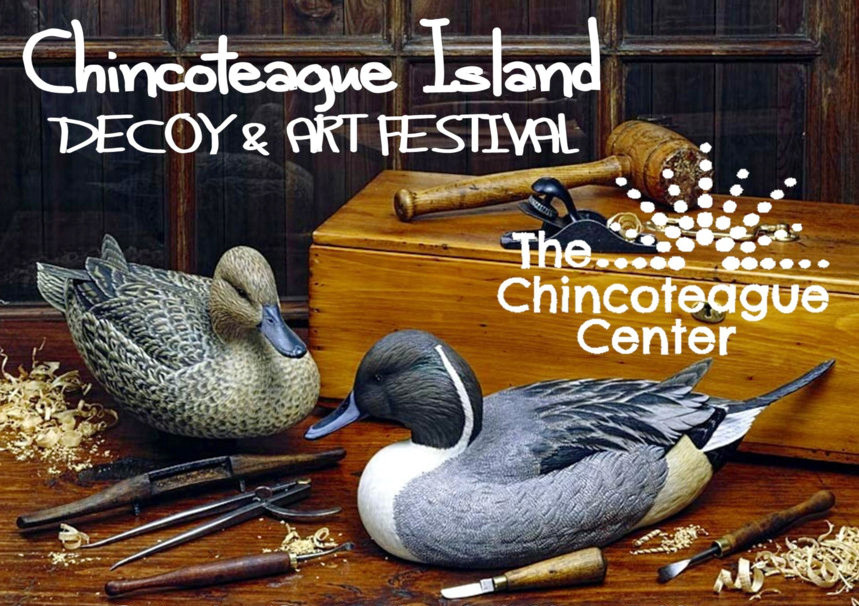 The Chincoteague Island Decoy & Art Festival is another island tradition.
Finely detailed decoy carvings are the focus of this show but other kinds of carvings are on display, too, along with wildlife paintings, photography, jewelry, and other fine creations. The Chincoteague Decoy Carvers and Artists Association works to preserve the tradition of decoy carving, an appreciation for wildlife, sporting, and the natural world.
Much of what is on display will be for sale, giving you the opportunity to take home a one-of-a-kind treasure. You'll also have the chance to talk to the artists and learn some of their inspiration and techniques. Vendors will also be on hand with art supplies, food, and drink.
Don't miss these annual Chincoteague Island art events!
Chincoteague Island Plein Air Art Show & Sale
Saturday, September 10, 2016 – 6pm to 9pm
United Methodist Church Social Hall, 6253 Church St
www.chincoteagueculturalalliance.org/
Chincoteague Island Decoy & Art Festival 2016
September 3, 9am-5pm – September 4, 10am-4pm
Chincoteague Center, 6155 Community Dr
For more details, visit www.thechincoteaguecenter.com
Lodging in Chincoteague
No matter what brings you to Chincoteague, Miss Molly's Inn is a wonderful choice for accommodations. A historic home in the downtown area, we put the island at your fingertips. Stay at our Chincoteague Island B&B for timeless comfort, value, and the traditional warm island welcome!
August 14, 2015 by Corey A. Edwards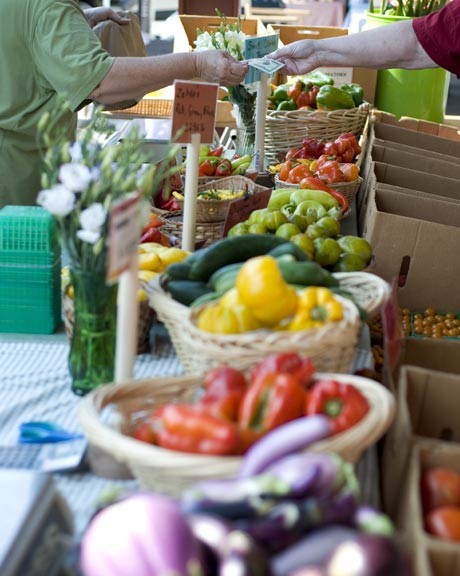 Looking for some fun and locally grown and prepared foods during your Virginia Coast getaway? If so, the Chincoteague Island Farmer's Market is for you!
Across the nation, farmer's markets are making a come back as more and more people focus on locally grown, healthy, whole and raw foods. Trendy or not, that's a good thing. Farmer's markets promote local economic health and are more sustainable than big, corporate markets. Sustainability begins with locally grown and prepared food, as well as other goods.
Plus, as those of us in smaller communities who've never lost our farmer's markets know, it isn't all about sustainability, either – it's also about fresher, tastier, superior food!
Read the rest of this page »